Published in The Daily Star on Monday, 29 February 2016
Women's unpaid work must be recognised
Prothom Alo, MJF and Mattra roundtable told
Staff Correspondent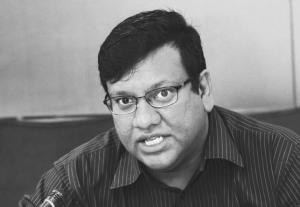 Women's participation in the labour force can be increased if men realise the importance of household work and equally share the burden, speakers said at a roundtable yesterday.
Quoting the National Labour Force Survey 2013, Towfiqul Islam Khan, research fellow at the Centre for Policy Dialogue, said, "The total number of employed males is 41.2 million and employed females is 16.8 million. So 24.4 million women are out of the labour force,"

He explained that since the male to female ratio was almost 50:50, their shares in the workforce should ideally be equal.

While 36 percent of females eligible to work were in the labourforce in 2010, the rate dropped to 33.5 percent in 2013 as per the survey, he said, expressing concern at the roundtable on "Valuation and recognition of unpaid work of women".
The discussion was organised by the daily Prothom Alo, in association with rights organisation Manusher Jonno Foundation (MJF) and advertising firm Mattra, at the newspaper's office in the capital.
Shaheen Anam, executive director of MJF, said since unpaid housework was not valued, it had no recognition and as it was not recognised women were not respected, which led to discriminations and violence against women.
"If unpaid work of women is included in the Gross Domestic Product (GDP), its size will increase and also the contribution of women in GDP will be recognised," she said.
In 2014, MJF launched a campaign "Equality through Dignity" with its partner organisations and Mattra to make people aware about recognition of women's unpaid housework.
A CPD study conducted in 2014 in collaboration with MJF found that the estimated value of women's unpaid work was equivalent to 72.8 percent of the GDP in fiscal year 2013-14.
AB Mirza Azizul Islam, a former caretaker government adviser, said, "It is easy to change policies, but implementing those is difficult."
He said people's mentality about women should change.
Shamsul Alam, member of Planning Commission, said mentality would not change without a change in the economy.
He said men would automatically participate in housework, once kitchen technologies such as rice-cookers and coffee-makers became widely available.
Rights activist and chairperson of Ain o Salish Kendra (ASK) highlighted the importance of providing childcare to bring more women in the workforce.
Speaking about discriminatory laws that deprive women of equal inheritance rights, Dr Pratima Pal Majumder, former senior researcher of the Bangladesh Institute of Development Studies (BIDS), said, "The inheritance law must be a state law, not a religious law."
Fouzia Moslem, vice president of Bangladesh Mahila Parishad, said, "Since women do not own lands or sell agriculture produce at the market, their contribution to agricultural work is not recognised."
Even though they do majority of the tasks in agriculture, they are not recognised as farmers and not given farmer's cards, she added.
Farah Kabir, country representative of ActionAid Bangladesh, said stereotyping of women in media must stop. "The programmes of foreign channels are totally contrary to women's rights," she said, referring to Hindi television serials.
Simeen Mahmud, lead researcher, Brac Institute of Governance and Development, Brac University; Sayema Haque Bidisha, associate professor of economics, Dhaka University; Afzal Hossain, managing partner of Mattra; and Banasree Mitra Niyogi, senior researcher of MJF, also spoke at the programme moderated by Abdul Qayyum, associate editor of Prothom Alo.