Published in The Daily Sun on Saturday, 26 March 2016
CPD Pre-Budget Dialogue
Call for setting up spl SME economic zone in Bogra
Staff Correspondent
Speakers at a dialogue underscored the need for setting up a specialised economic zone in Bogra, exclusively for the small and medium-sized enterprises (SMEs).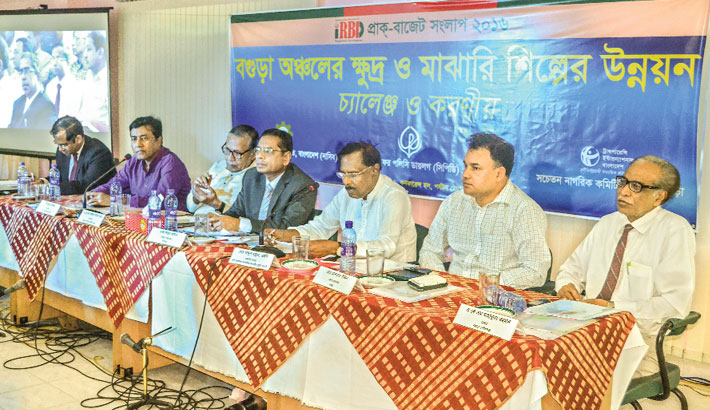 Besides, appropriate infrastructure and communication development is a must to support and encourage entrepreneurs in this sector, they said adding: "The government should focus on necessary budgetary allocations and fiscal-monetary incentives to support the growth of SMEs in Bogra and special attention should be given to addressing the problems facing the women SME entrepreneurs." They made the observations at the Centre for Policy Dialogue's (CPD) pre-budget dialogue titled "Development of Small and Medium Enterprises of the Bogra Region: Challenges and Initiatives", held at Parjatan Motel Conference Hall in Bogra on Thursday, according to a message received here Friday.
The dialogue was organised jointly by the CPD and the National Association of Small and Cottage Industries of Bangladesh (NASCIB) and the Sacheton Nagorik Committee (SANAC), Bogra. The dialogue was organised as part of CPD's annual activities related to the national budget under its flagship programme on Independent Review of Bangladesh's Development (IRBD). Dr Khondaker Golam Moazzem, Additional Research Director, CPD presented the keynote on "National Budget and Decentralised Development of SMEs: A Case Study of SME Clusters in Bogra" at the dialogue.
The presentation focused on allocation trends for SMEs in the national budgets from FY2004-05 to FY2014-15 and major challenges being faced by the SME entrepreneurs, particularly in the SME clusters in Bogra. He put emphasis on issues of raising competitiveness, access to finance and regulatory regime governing SME development in Bangladesh.
Abdul Mannan, Member of the Parliamentary Standing Committee on Ministry of Agriculture was the chief guest at the event.
He stressed the need for setting up specilaised cold storage facilities in the remote areas in Bogra. He also highlighted the need for effective coordination between NASCIB and Bangladesh Small and Cottage Industries Corporation (BSCIC) which will help entrepreneurs address some of the key challenges facing the sector. He observed that recommendations emerging from the dialogue will help policymakers in designing appropriate fiscal-institutional policies particularly in view of preparing district budgets.
Deputy Commissioner of Bogra Ashraf Uddin, present at the event as special guest, informed the audience that the district administration is committed to provide all the necessary supports and services to flourish the SME sector in Bogra.
Dr Hosne Ara Begum, Chief Executive Officer of TMSS highlighted the need for gas connection to the SMEs. She also emphasised on the need for more investment in infrastructure in Bogra.