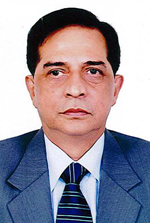 Member, CPD Board of Trustees
Advocate, Supreme Court of Bangladesh
Honorary Director, Bangladesh Institute of Law and International Affairs
Adjunct Faculty, University of Asia Pacific

Educational Qualification
Dr. Malik studied law in Moscow (LL.M., Patrice Lumumba University, 1979), Philadelphia (LL.M., University of Pennsylvania Law School, 1984) and London (Ph.D., School of Oriental and African Studies, London University, 1994).

Major Professional Involvement
He started his career as a Lecturer in the Department of Law at University of Dhaka in 1980. In the mid-1990s he moved in the NGO sector (Bangladesh Legal Aid and Services Trust, BLAST). Although Dr. Malik, has been spending most of his time as an Advocate of the Supreme Court from 2003, he served BRAC University as the founder Director and Professor of School of Law till 2015.
Over the years, Dr. Malik has worked as a short-term consultant for a number of UN Agencies (UNDP, ILO, UNICEF) and other bilateral and multilateral development partners (The Asia Foundation, Asian Development Bank, World Bank, Canadian International Development Agency, and others.)
He is also a member of governing boards of some civil society organisations (Action Aid Bangladesh, Refugee and Migratory Movement Research Unit, etc.) and currently is an Independent Director of the Pubali Bank Ltd.

Publications
Dr. Malik has written (The Children Act, 1974: A Critical Commentary, Dhaka, 2014) and edited books, published articles in law journals of Bangladesh, Germany, India, USA, and contributed articles in edited books published from Bangladesh and the Netherlands. He also writes regular column for the daily Prothom Alo and participates in discussions and conferences.
Email: shahdeenmalik01@gmail.com