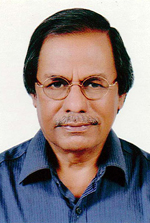 Member, CPD Board of Trustees
Professor of English, University of Dhaka
Writer, Novelist, Translator and Columnist

Academic Qualification
He received his Ph.D. from Queen's University, Canada; and prior to that, graduate and post-graduate degrees from University of Dhaka.
Major Professional Involvement
He is also a visiting faculty at the department of English and Humanities, BRAC University, Dhaka. Although primarily and academic – teaching and publishing in areas as diverse as Elizabethan drama, literary theory and cultural studies – he is also a noted art historian and critic and an award winning fiction writer. In the decades since he began his career in teaching Dr. Islam has kept his engagement with socio-political and cultural issues, particularly as they shape the minds of the youth. He writes as regular column in a leading newspaper of the country on these issues, and advocates for their right to quality education and social mobility.
Dr. Islam is trustee of Transparency International Bangladesh and the National Museum and a member of the Executive Council of Bangla Academy. He is also a member of the academic councils of many private universities and the syndicate of University of Liberal Arts, Bangladesh.
Awards