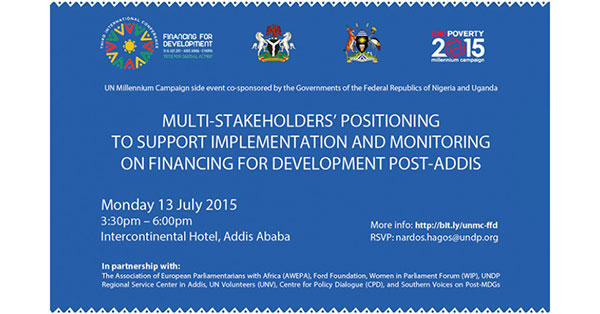 Southern Voice on Post-MDG International Development Goals (Southern Voice) and the UN Millennium Campaign organised a special side event captioned "Multi-stakeholders' Positioning to Support Implementation and Monitoring on Financing for Development Post-Addis" in the Third International Conference on Financing for Development (Ffd) in Addis on 13 July 2015 at the Intercontinental Hotel.
The event started with opening and goodwill messages delivered by J.O. Gillis-Harry, Deputy Director and Head of Sectors of the Senior Special Assistant to the President on the Millennium Development Goals (OSSAP-MDGs), Government of the Federal Republic of Nigeria; Henry Banyenzaki, Minister of State for Economic Monitoring, Office of the President, Government of the Republic of Uganda; Chief Fortune Zephania Charumbira, Abisei, Member of the East African Legislative Assembly (EALA), as a representative of the Women in Parliament Forum (WIP).
This was followed by a Technical Session moderated by Debapriya Bhattacharya, Chair of Southern Voice and Distinguished Fellow, Centre for Policy Dialogue (CPD), Dhaka.
The other panelists of the session included Sering Falu Njie, Deputy Director of Policy, UN Millennium Campaign; Simon Osei-Mensah, Deputy Speaker, ECOWAS Parliament; Chris Eaton, Executive Director, World University Service of Canada (WUSC) and Chair, International Forum for Volunteering in Development; and Marta Benavides, Co-Chair Global GCAP, El Salvador.
The session was followed by an open discussion and sum-up conclusion by the moderators.