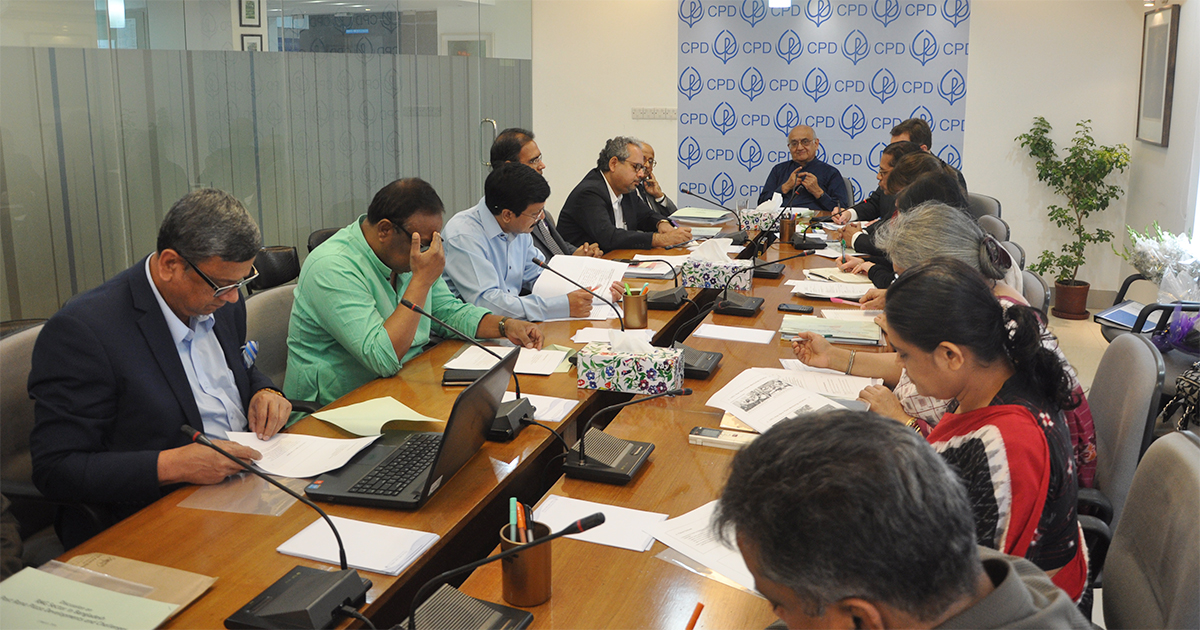 Tragedy like Rana Plaza does not happen in a vacuum and all of us are responsible for this. The government, RMG factory owners, workers- nobody played their due role to avoid such incident, said Dr Jean Lebel, President of International Development Research Centre (IDRC), Canada. We, the buyers, also have a tendency to buy cheap products from cheap labours which is equally responsible, he added.
The Rana Plaza incident should not be seen as a unique situation for Bangladesh only rather it needs to be phrased with others all over the world so that experiences and knowledge around the globe can be used to develop a system to avoid such incidents occurring again. Such observations were made at a discussion on Post-Rana Plaza Developments during the visit of Dr Jean Lebel at CPD Office on 2 March 2016.
The discussion was initiated with a brief presentation on the subject by Dr Khondaker Golam Moazzem, Additional Research Director, CPD where he mentioned about a number of anomalies and weaknesses in the global apparel value chain exposed through the Rana Plaza tragedy. These included poor state of social compliance, faculty monitoring system driven by buyers and also margin generated could not ensure "just" return to suppliers. About the post-Rana Plaza developments he noted that the victims and their families have received financial supports from different sources but those were inadequate. Though the government has started to rebuild the country image by undertaking several initiatives, the process is still slow, said Dr Moazzem.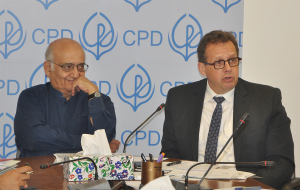 Ms Rubana Huq, Managing Director, Mohammadi Group pointed out that the pressure on dealing with compliance issue is severe both from external and internal stakeholders. She mentioned about slow pace of required infrastructural development which was delaying the recovery of post-Rana Plaza situation.
In order to address the ground reality that the buyers are attracted to low cost products, Ms Nazma Akter, Founder President, Awaj Foundation, also a labour leader, suggested that instead of raising wages of the workers they may be compensated with subsidised food, accommodation, education for children, medical services etc.
Managing Director, Alliance for Bangladesh Worker Safety Mr M Rabin observed that tragedy like Rana Plaza can occur again if residential or commercial buildings continue to be used for industrial purposes. He urged for better monitoring and implementation of building codes and regulations by the government agencies and responsible acts from manufacturers.
Mr Mahmud Hasan Khan, Vice President, BGMEA mentioned about the National Tri-partite Action Plan and said that they are trying to implement it to improve the post-Rana Plaza situation. He also expressed concern about the factories which are not yet registered with BGMEA or BKMEA.
Mr Khondaker Mostan Hossain, Joint Secretary, Export and International Organisation, Ministry of Labour and Employment of Government of Bangladesh informed about several initiatives undertaken by the government to mitigate such disasters in coordination with RAJUK and Fire Service and Civil Defence Department. He expected that in implementing the national action plans the government would receive cooperation from development partners and relevant stakeholders.
Professor Rehman Sobhan, Chairman, CPD proposed to IDRC president, as part of their work programmes, should reflect on two issues. Firstly, IDRC may initiate an inquiry into global comparative situation on existing compliance processes in the garments sectors in exporting countries. Secondly, IDRC may also like to examine the global value chain of major buyers and retailers so that costs of undertaking compliance measures can be absorbed at the buyers' end both by the major retailers and consumers. This will ensure distributive justice among the value chain and also a fair way to establish rationality in pricing.
Professor Mustafizur Rahman, Executive Director, CPD concluded the session with a happy note that the ongoing debates on the Rana Plaza issue are more forward looking. Challenges of this sector need careful attention to mitigate properly to take our garments industry to the next-generation of development.
Discussion session was also participated by Mr M Syeduzzaman, Member, CPD Board of Trustees; Mr Tipu Munshi, MP, Member, Parliamentary Standing Committee on Ministry of Finance; Mr Srinivas B Reddy, Country Director, ILO Country Office, Bangladesh; Dr Selim Raihan, Professor of Economics, University of Dhaka; Mr Md Fazlul Hoque, Former President, Bangladesh Employers' Federation (BEF); Ms Shireen Huq, Member, Naripokkho among others.