Published in The Financial Express on Wednesday, 19 August 2015.
State of compliance: Pre- and post-Rana Plaza period
Apparel sector undergoes major restructuring
Kishore K Basak concluding their two-part article focusing on compliance standard in the apparel sector
During the pre-Rana Plaza period, firms usually maintained physical and social compliances taking into account the national rules as well as the guideline followed by buyers/brands/retailers under their codes of conduct (CoCs). Usually, these codes of conduct are partially compliant with national rules and regulations. Major provisions under CoC include a number of aspects related to physical and social compliances particularly in four areas including facilities in workplace, fire prevention and fire-fighting measures, planning and storage and building design compliance (Table 1). Based on these CoC, associations, particularly BGMEA (Bangladesh Garment Manufacturers and Exporters Association) and BKMEA (Bangladesh Knit Manufacturers and Exporters Association) set minimum required criteria for compliance which include fourteen different aspects: minimum wage, identity card, wage at right time, leaves (weekly, sick leave, occasional and annual), participation committee, welfare committee, child labour, alternative exit for emergency, service book for workers, necessary fire-fighting equipment, day-care centre, first-aid facility and separate toilet for male and female workers.
Table 1: Compliance related Guideline Followed by Firms during Pre-Rana Plaza Period
Source: Based on different documents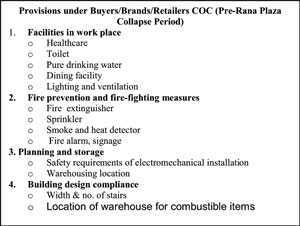 During the post-Rana Plaza period, the apparel sector has undergone major restructuring on compliance-related issues. A number of private sector initiatives including Accord, Alliance and ILO-supported initiatives are in force to oversee the compliance standard at the factory level. As part of those initiatives a new guideline for fire and electrical safety and physical integrity has been prepared. Compared to the guideline followed during the pre-Rana plaza period, this guideline is quite comprehensive regarding physical compliance. These standards have been set based on the national rules and regulations as well as international rules and regulations where national rules are inadequate.
These guidelines have been accepted by the National Tripartite Committee (NTC) formed in collaboration with the representatives from government, employers and workers of the apparel sector of Bangladesh. Based on the guidelines firms have been inspected by several teams of experts who are working with Accord, Alliance and the ILO (International Labour Organisation). The NTC is overseeing the progress of monitoring and inspection of factories.
There are a total of 3743 factories which are members of two major associations, BGMEA and BKMEA. Until July, 2015, a total of 1898 factories have been inspected. Based on the inspection, firms have been given the corrective action plan (CAP) to make necessary remediation as per the timeline.
However, another 1500 factories have been identified which are not suppliers of the buyers of Accord and Alliance. A large number of these firms are working for local suppliers as well as for foreign buyers under sub-contracting arrangements. These factories have been inspected by the ILO.
There exists another set of firms, which are not members of any organisations such as BGMEA and BKMEA and their numbers could total 800. These firms mostly operate informally and often do subcontracting type of work for larger firms.
ACCORD has identified 52, 605 different kinds of problems in the inspected factories which are related to unsafe means of egress, unsafe electrical installations and weak structures.  Alliance, like Accord, has undertaken rigorous initiatives to inspect its member factories. Alliance has already inspected all of its 648 factories. During the inspection process, five factories were fully closed, 12 were partially closed and the remaining two were required to operate at reduced capacity.
The NTPA (National Tripartite Plan of Action) initiative is currently facing a number of difficulties in conducting the inspection. Out of 1500 factories listed as members of BGMEA which are not covered under Accord and Alliance initiatives, 1100 factories are found to be challenging for inspection. Factories which remain uninspected under the three initiatives, are likely to have deficiencies in terms of physical and social compliances and need to be internalised in the formalisation process and need to be inspected properly. A total of 32 factories have been closed because of safety concerns with several thousand workers being affected.
LEVEL OF COMPLIANCE IN SAMPLE APPAREL FIRMS: A firm-level investigation has been carried out in order to understand the level of compliance and current practices for maintaining compliance standard. The investigation was carried out in January-February, 2015 in different categories of firms including large and small-sized firms as well as firms having direct and sub-contracting arrangements with buyers/retailers. A similar investigation has been carried out among brands and buyers which operate their businesses from Dhaka. Respondents of both firms and buyers/retailers were asked to share their views regarding current practices of compliance, cost of maintaining compliances, distribution of margin between different market agents and relationship between margin and compliance standards, etc. It is important to note that during the time of interview sample firms were either inspected or to be inspected by the expert teams of Accord and Alliance. As a result, firms have made some changes in compliance-related infrastructural facilities in order to be better rated during the time of inspection. Hence the perception of the respondents on various issues reflected the compliance standard in congruence with the newly set standards.
PHYSICAL COMPLIANCE: Study finds that most of the firms are moderately equipped with major physical compliance-related indicators such as fire-fighting system and other equipment including fire alarm and signs. However, sprinkler and smoke/heat detector systems are not available in most of the sample firms. Majority of the factories follow national regulation of having one toilet for every 25 workers. But there are concerns regarding other compliance issues such as width and number of stairs, dining facility, pure drinking water facility and lighting and ventilation.
There exists wide differences between large and small firms with regards to maintaining the compliance standard at the factory level (Table 2). While large firms are found with necessary compliance in all aspects, small firms are found with differences in compliance standard. Better compliance standard in small factories is observed in the case of availability of fire extinguishers and pure drinking water, toilet facility and fire alarm and signs, etc., most of which are either usually built-in or low-cost equipment. In contrast, there are issues including lighting and ventilation facility, electrical safety equipment, dining facility, smoke and heat detector and warehouse for combustible items which are either costly or not so widely used at the factory level. The poor ranking was found in case of availability of smoke and fire detector at the factory level. Similar kinds of difference in compliance standard were found in case of sub-contracting firms and directly contracting firms. While directly contracting firms have necessary compliance standard in most of the cases, sub-contracting firms have moderate to poor compliances. Overall, although firms are supposed to maintain similar standard of physical compliance as per law, differences in the standard of compliance indicate lack of proper monitoring and inspection to be carried out by local authorities as well as auditors working with the buyers.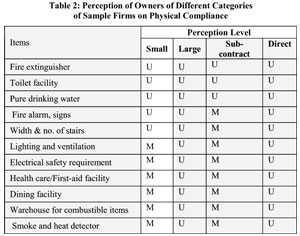 Note: U=Upper level (score: 8.0-10.0); M=Moderate (5.0-7.99); L=Low (3.0-4.99); VL=Very low (1.0-2.99)
Source: Based on interviews with apparel suppliers (CPD, 2015)
SOCIAL COMPLIANCE: Sample firms were asked to score their social compliance including minimum wage, identity card, participation committee, service-book for workers, no use of forced labour and child labour, discrimination and harassment and timely payment of wages, etc. Majority of indicators are found to be in better state in the sample firms including ensuring minimum wage, ID card for every worker, workers' participation committee, service-book for the workers, discrimination/harassment in the workplace, forced and child labour (Table 4). However, there are issues such as timely payment of wages, forming workers' welfare committee, having proper day care centre for workers' children which need further improvement. Better compliance is found in most of the factories in case of minimum wage, identity card, participation committee, service book for workers, no forced and child labour and no discriminatory treatment. Moderate level of compliance standard is found in case of no harassment and abuse, payment of wage at right time and facilities for taking leaves. Overall, level of compliance on social issues is better compared to that of physical issues.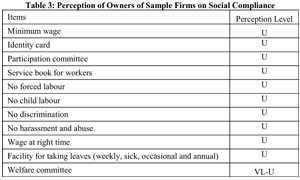 Note: U=Upper level (score: 8.0-10.0); M=Moderate (5.0-7.99); L=Low (3.0-4.99); VL=Very low (1.0-2.99)
Source: Based on interviews with apparel suppliers (CPD, 2015)
There is no major difference between different categories of firms in terms of maintaining social compliance. Most of the social compliance-related indicators are found ranked better in all categories of factories. Minor differences are observed in the case of timely payment of wages, incidents of harassment and abuse and getting weekly leaves. Since a large part of these issues have been enforced since early 2000s, no major difference is observed at this stage. Overall, social compliance standard has been maintained as per the CoC of the buyers which is mainly due to the result of long practice of those standards at the firm level.  [The article has been prepared based on the CPD's latest study titled 'Margin and Its Relation with Firm Level Compliance: Illustration on Bangladesh Apparel Value Chain.' The study has been carried out in collaboration with Friedrich-Ebert-Stiftung (FES), Dhaka.]
Dr Khondaker G Moazzem is Additional Research Director at the Centre for Policy Dialogue (CPD) and Kishore K Basak is a Senior Research Associate at CPD.