Published in The Financial Express on Tuesday, 31 October 2017
Thrust on boosting export of value-added farm products
FE Report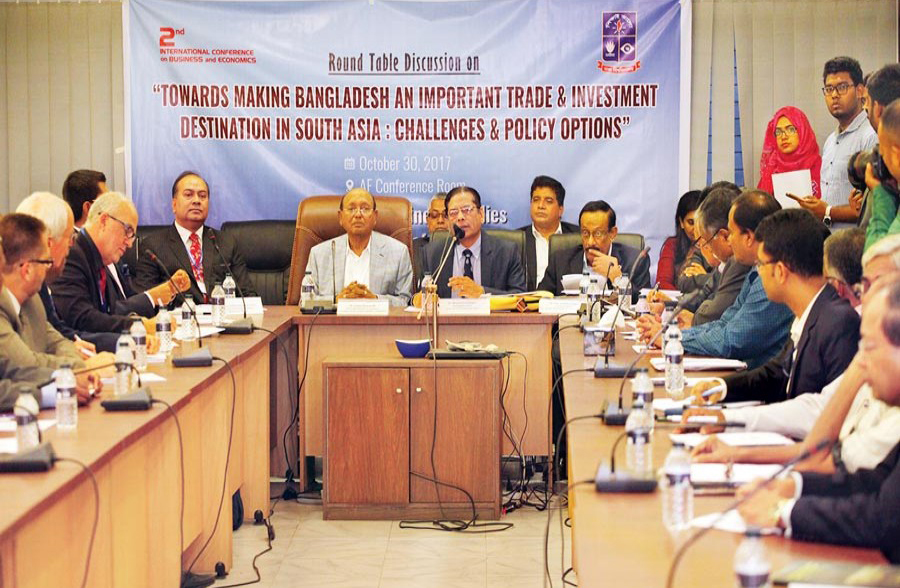 Speakers at a discussion meeting on Monday stressed the need for boosting export of value-added agro-based products aiming to widen the country's export volume.
They also urged the government and policymakers to prioritise some sectors for making Bangladesh a trade and investment destination and improve the capacity to achieve the export target.
The country needs to create some globally accepted brands to boost exports and foreign investments, the speakers told a roundtable discussion on "Towards making Bangladesh an important trade and investment destination in South Asia: challenges and policy options" at the AF conference room of Dhaka University Business Studies Faculty.
Speaking at the event, distinguished fellow of Centre for Policy Dialogue (CPD) Dr Mustafizur Rahman said many countries adopted a protectionist trade policy after 2008 global recession. "Bangladesh needs to think as to how it can combat the conservative policies of those countries."

He said the country has improved a lot, but there are ample scopes for improvement of fiscal, trade and tax policies for realising a higher growth target.

"Bangladesh has failed to properly utilise a lot of competitive trade advantages it had. This is the time we should address our challenges and prepare to overcome it," he added.
Speaking as the chief guest, Commerce Minister Tofail Ahmed said after Rana Plaza collapse, US and EU buyers have imposed many burdens on the country's RMG sector.
"RMG manufacturers have invested a huge amount of money to improve the situation in the RMG sector, but the buyers did not raise the prices of products even after Rana Plaza improvement," he added.
Foreign Secretary Shahidul Haque, Prof Partha Ghosh of Tufts University, USA, Prof Supriya Singh, RMIT University Australia, and Prof Abdul Moyeen, Department of Organisation Strategy and Leadership of Dhaka University, among others, also spoke at the event.