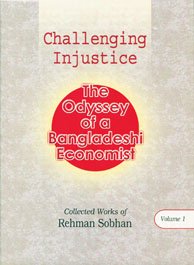 Part of the
injustice
series:
Challenging Injustice: The Odyssey of a Bangladeshi Economist
The papers included in the volume cover forty-five years of the professional life of Rehman Sobhan from 1961 to 2006. The volume is prefaced by his address on the theme of Correcting Structural Injustice: The Odyssey of a Bangladeshi Economist, which is designed to provide some coherence to the concerns that have driven his intellectual life. The volume opens with his very first public lecture, at the age of 26, on the Indivisibility of the National Economy of Pakistan, which for the first time spells out his views on the issue of the deprivation inflicted on East Pakistan and the necessity for complete regional autonomy as a response to the injustice. Second paper on Beyond Parity, moves beyond the issue of regional disparity to address the social injustice within East Pakistan, and the need for a more egalitarian development strategy, an issue which has ever since been a common theme of his work. The issue of social injustice was investigated more deeply in the paper on the Social Forces in the Basic Democracies, which explored the underlying political economy of the Ayub regime in East Pakistan.
In subsequent papers in this volume, he focuses on the issues of equity and justice. He examines the growing divide in Bangladesh society and the increasingly unjust social order which was perpetuating this cleavage. His FAO/IFAD lecture in Rome, in 2001, for the first time, presents his ideas on the structural reforms needed to correct these injustices. Three further papers address the issue of external dominance over Bangladesh's policy direction. His paper on regional cooperation goes on to explore the importance of regional integration as a necessary measure for coping with the challenge of globalisaiton in an inequitable world order.
Collected Works of Rehman Sobhan (Volume 1)
Price:Tk. 750/USD 25
Hard copy of the book is available at CPD Office
Published:
March 3, 2007
Genres: