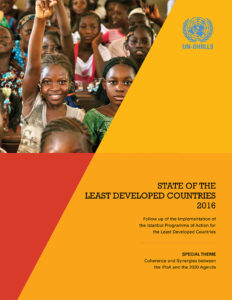 The United Nations Office of the High Representative for the Least Developed Countries, Landlocked Developing Countries and Small Island Developing States (UN-OHRLLS) has launched its annual publication, State of the Least Developed Countries 2016. The report highlights how progress towards graduation from the LDC category has accelerated with 10 LDCs currently in the graduation process.
Dr Fahmida Khatun, Research Director of the Centre for Policy Dialogue (CPD) has authored Part 2 of this report titled "Coherence and Synergies between the IPoA and the 2030 Agenda".
This report maps the goals and targets of the Istanbul Programme of Action (IPoA) to the 2030 Sustainable Development Agenda. It focuses on the actions agreed in the IPoA and the means of implementation under each SDG as well as in goal 17, and how their implementation can be enhanced. The report gives special attention to the issue of coherence in the implementation, review and follow-up of the IPoA on the one hand and the 2030 Agenda for Sustainable Development and the outcomes of other processes, on the other. Policy implications for mainstreaming the global frameworks at the national, regional and global levels are also made.