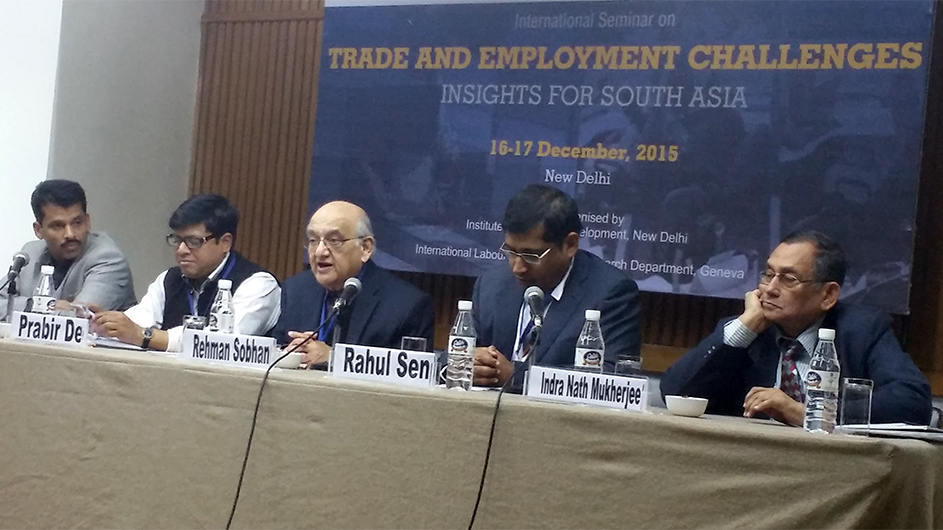 Professor Rehman Sobhan, Chairman, Centre for Policy Dialogue (CPD), and Dr Khondaker Golam Moazzem, Additional Research Director, CPD, addressed the second day of the International Seminar on "Trade and Employment Challenges: Insights for South Asia" on 17 December 2015 in New Delhi. The seminar was jointly organised by the Research Department of the International Labour Organisation (ILO) in Geneva and the Institute for Human Development (IHD), New Delhi.
Professor Sobhan chaired the fourth session viz. "Regional Trade Agreements: Employment  Challenges and Opportunities of Integrated Markets in South Asia".  The speakers at the session were Rahul Sen, Auckland University of Technology; Atul Sarma, Visiting Professor, IHD and Shyam Sundar, Senior  Manager, Corporate Affairs, Hyundai Motor India Limited; Prabir De, Research and Development System    for Developing Countries (RIS), New Delhi; and C.  Veeramani, Indira Gandhi Institute of Development Research (IGIDR), Mumbai.
The discussants were Vaqar Ahmed, Sustainable Development Policy Institute (SDPI), Islamabad and Indra Nath Mukherjee, Centre for International Relations and Community Well Being.
On the other hand, Dr Moazzem was a panelist at the session on "Regional Integration and Employment from the Perspective of South Asian Economies". The session was chaired by Muchkund Dubey, President, Council for Social Development, Delhi and Former Foreign Secretary of India.