All initiatives concerning the post-Rana Plaza deliverables undertaken in the last two years should soon meet the expected outcome, observed discussants at the fourth CPD dialogue on the tragic incident.
The consequences and lessons emerging from the Rana Plaza collapse call for ways to catalyse this experience to create a safe working condition in the industrial sector, recommended the discussants.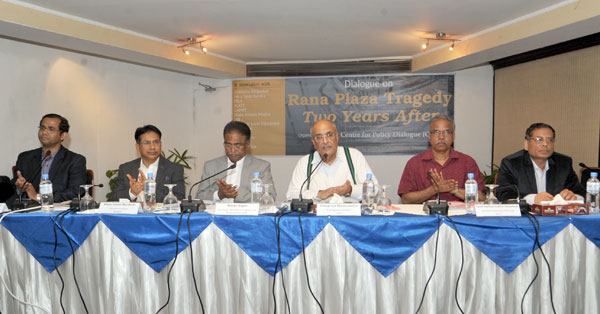 The dialogue on "Rana Plaza Tragedy: Two Years After," organised by CPD as part of the Post-Rana Plaza Monitoring: A Civil Society Initiative was held in Brac Centre Inn on Tuesday, 21 April 2015.
All unfulfilled measures including compensation, rehabilitation initiatives and long-term action plans for the affected workers must be brought to completion with adequate care and accountability, mentioned Chair of the dialogue, CPD Distinguished Fellow Dr Debapriya Bhattacharya.
Emphasising legal aspects, he particularly mentioned that appropriate actions against the responsible for the tragedy did not take place and the rights to trade unionism and fair wages was not adequately addressed by the concerned bodies.
He added that factories that were being shut down for risky operations needed relocation and coordination among different government bodies and the measures taken by international development agencies must be ensured.
CPD Additional Research Director Dr Khondaker Golam Moazzem, in his keynote presentation on "Moving Beyond the Shadow of the Rana Plaza Tragedy," noted that around 1239 workers received training on small business and entrepreneurship development and have started their ventures with organisational assistance in the last two years.
However, interviews with some survivors revealed that the victims and their family were struggling in comparison to their condition prior to the collapse despite various initiatives.
Families of the missing must be identified and provided with financial support from the Prime Minister's Relief Fund, noted Dr Moazzem. The government was also urged for arranging treatment for remotely located victims and providing artificial limbs, both free of cost.
On the positive side, Bangladesh's overall export growth did not deviate much since the tragedy, he said.
In view of Bangladesh's performance according to USTR 16-point Plan of Action, Dr Moazzem recommended that the USTR should consider reinstating the GSP facility for Bangladeshi products in the US market.
Speaking as a Discussant, Syed Sultan Uddin Ahmmed, Assistant Executive Director, Bangladesh Institute of Labour Studies (BILS) noted that the tragedy's aftermath reached far beyond the number of victims and encompassed their families comprising children and the elderly people. While these sufferers run from door to door for help, all post-Rana Plaza initiatives must instead reach out to these sufferers.
Addressing the dialogue, Ms Jesmin, a victim of Rana Plaza and a single mother, informed that she has undergone a backbone operation but was still suffering from a remaining metal fragment. Unemployed, she reportedly spends around Tk. 4000 for treatment purposes every month having received around Tk. 60,000 since the accident.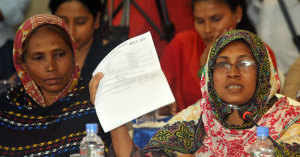 Ms Monowara Begum, wife of a deceased labour employed in Rana Plaza, reported receiving some Tk. 20000 for burial purposes since her husband was identified. Another victim Ms Moriom Begum from Barguna reportedly runs a grocery using some Tk. 40000 in compensation. She could not figure out why all victims did not receive equal financial support despite various initiatives.
Chief Guest Mr Mikail Shipar, Secretary, Ministry of Labour and Employment reported some positive developments regarding the long-unresolved DNA tests for identification of deceased workers. He informed that particulars of 166 unidentified victims were sent to 48 districts and families of 104 were identified through local administrations and their list was forwarded to the Prime Minister's Office.
He also informed of providing a total of over 183 crore in financial assistance, including Tk. 162 crore compensation from foreign sources and Tk. 21 crore 40 lac from Prime Minister's Relief Fund.
Mr Shipar, however, could not give an account of the total compensation received by the PMO in favour of the victims.

In the floor discussion, Barrister Sara Hossain reiterated the demand for an account of all compensation and aid received and spent from the Prime Minister's Relief Fund. She also inquired why the amendment of rules regarding the compensation of Tk. One lac according to labour law is being delayed.
Expressing doubt over the remediation plan of the Accord, the National Tripartite Plan of Action, and the Alliance, Special Guest Mr Abdus Salam Murshedy, President, Exporters Association of Bangladesh and Former BGMEA President said that the owners of rented factories may not allow the measures to be taken.
Social compliance audits from abroad often fail to identify facts about RMG factories, observed Mr Mark Chubb, Chief Safety Officer, Alliance for Bangladesh Worker Safety.
Informing financial discrepancies in the process, Dr Iftekharuzzaman, Executive Director, Transparency International Bangladesh (TIB) said that victims had to allegedly bribe to get enlisted for compensation.
Of some positive developments, Mr Md Shafiqul Islam, Executive Director, Centre for the Rehabilitation of the Paralysed (CRP) reported of treating 509 victims, of whom 19 received artificial legs and limbs.
Mr Syed Ahmed, Inspector General (IG), Directorate of Factory and Establishments (DIFE) informed of recruiting 218 inspectors and inspecting 2783 RMG factories, of which 32 were closed for risky operations.
Ms Noushin Safinaz, Project Coordinator, Contracting Agent for Rana Plaza Claims Administration (CARPA), GIZ informed of spending USD 9.85 million by addressing 2839 compensation claims from victims, rescue workers and otherwise affected.
More remarks came from Dr Badiul Alam Majumdar, Member Secretary, SHUJAN; Mr Habibullah N Karim, Managing Director, Technohaven Group of Companies; Mr Md Golam Mustafa Dulal, Executive Director, Gonoshasthya Kendro (GSK); Mr Ainul Fahad, Addl Chief Engineer (Planning & Special Project), Departments of Public Works; Mr Jafrul Hasan Sharif, Program Manager, Manuhser Jonno Foundation (MJF); Mr Salim Ahsan Khan, Legal Counselor, Solidarity Center among others.