Bangladesh should take advantage of its current macroeconomic stability to drive economic and institutional reforms in order to break the stagnant 6 percent growth.
In this regard, the seventh five-year plan, policy coherence, strengthened governance and quality of public expenditure will be critical for realising the growth and development targets as set in the Vision 2021.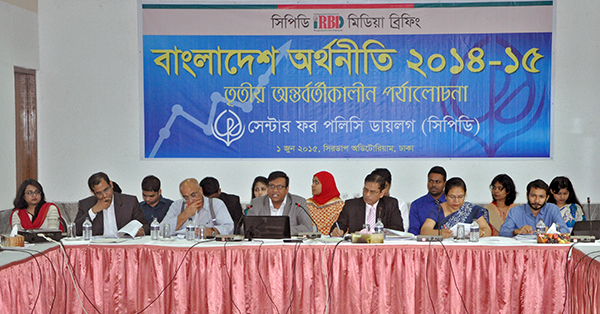 The observations emerged at a media briefing to release the report "State of the Bangladesh Economy in FY2015 and the Closure of Sixth Five Year Plan," prepared as part of CPD's Independent Review of Bangladesh's Development (IRBD) programme. The event was held at CIRDAP Auditorium, Dhaka on Monday, 1 June 2015.
CPD Distinguished Fellow Dr Debapriya Bhattacharya underscored that the question is whether Bangladesh economy can reach its potential growth targets through enabling policies and congenial political environment in the years to come before 2021.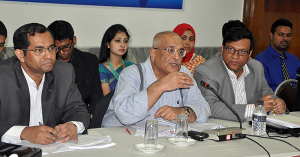 Observing the trend of public expenditure in recent budgets, he cautioned that quality of fiscal planning is deteriorating over the last four years with the fiscal gap ever increasing.
In his keynote presentation, CPD Research Fellow Mr Towfiqul Islam Khan introduced the IRBD report that mainly looked at macroeconomic management in FY2015 and outlook for FY2016, recent dynamics of rice price in Bangladesh, assessment of progress of fast track projects and analysis of implementation of the sixth five-year plan (SFYP).
He mentioned that Bangladesh economy is experiencing a number of macroeconomic advantages including lower inflation, declining interest rate, stable exchange rate, manageable fiscal deficit, positive balance of payment, augmented foreign exchange reserve and low level of global commodity prices including that of oil.
However, acceleration in private investment remained an illusive goal while NBR's tax revenue collection growth was below target despite having import duty and supplementary duty collections on track. The fiscal planning for FY2016 will require significant mid-term corrections to achieve a realistic revenue target, noted Mr Khan.
Export earnings held their ground against all odds as competition intensified in major markets. The IRBD report estimated export earnings to be USD 31 bn against the target of USD 33.2 bn.
Focusing on recent dynamics of rice economy in Bangladesh, the report particularly stressed undertaking an assessment of strategic stockholding behaviour of the private sector agents and their reaction as well as adjustment behaviour to public intervention in the foodgrain market. This would make sure that farmers are not deprived of fair price of their produce in the moderately integrated and highly competitive rice market, as indicated by studies.
On banking, the report recommended the central bank to establish an independent banking commission to conduct necessary analytical exercises and undertake an appropriate reform agenda to overcome uneven interest rate spreads, NPLs, and inadequate capital adequacy with repeated recapitalisation.
The report stated that the central bank has recently started scrutinising bills of entry (BoE) received from commercial banks to unearth possible capital flight in the form of capital machinery import following CPD's repeated caution regarding the possibility of illicit financial flow.
As regards CPD's reform suggestions, Mr Khan reiterated establishing an independent statistical commission to validate the macroeconomic correlates; permanent agriculture price commission and local government financing commission; and independent public expenditure review commission and financial sector reform commission.
As per the IRBD report's review on eight supposed "fast tracked" projects, CPD Executive Director Professor Mustafizur Rahman mentioned that their overall progress was unsatisfactory and the government should take responsibility for successful completion of the projects at economically viable cost with good governance.
Discussion during a Q&A session with the journalists also covered issues such as undisclosed asset and income as well as legal measures to ensure financial transparency, coordination of investments in regional connectivity and transit, motor vehicle agreement between four South Asian countries, future of deep seaports, capital flight through over-invoicing, ADP expenditure and implementation, enhancing pay scale for drawing efficient workforce in public service etc.