Published in Dhaka Tribune on Friday, 3 July 2015.
Steep challenges ahead as Bangladesh eyes upper middle-income status
Kayes Sohel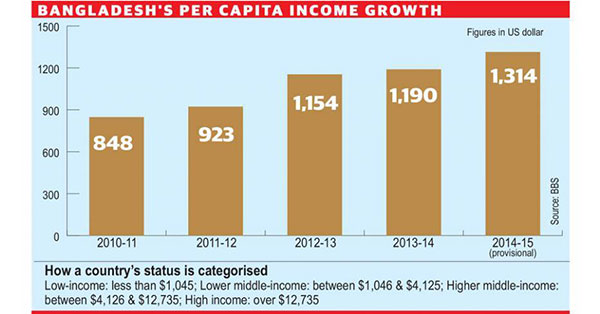 Steep challenges are awaiting Bangladesh if the country is to elevate to the upper middle-income tier from the just achieved lower middle-income status, economists have said.
Inclusive politics and effective economic governance, which the country lacks, are crucial for the graduation although Bangladesh became a deserving candidate long ago.
They also stressed reducing income inequality between rural and urban areas which is acute now and improving transportation, education and healthcare.
These observations came after the World Bank had promoted Bangladesh to the status of a lower middle-income country from low-income category on Wednesday.
The WB showed that Bangladesh's per capita gross national income (GNI) stood at $1,080, calculated in the Atlas method, in 2013-14. According to the calculation of Bangladesh Bureau of Statistics (BBS), per capital GNI in that year was $1,090.
WB's bottom threshold for the lower middle-income status is $1,046 and a country has to achieve this for three consecutive years.
Bangladesh's per capita income rose to $1,314 in the immediate past 2014-15 fiscal year, according to provisional figures provided by the government. It was $1,190 in 2013-14 and $1,154 in 2012-13.
The World Bank currently divides economies into four income groups: low, lower middle, upper middle and high.
A country is categorised higher middle-income if its per capita GNI is between $4,126 ad $12,735; and higher income if the GNI is more than $12,735.
Hossain Zillur Rahman, adviser to a former caretaker government, sees this as just a statistical milestone, which is inevitable in line with the state of the country's economy.
"It does not mean shrinking of inequality … It does not mean the cities have become livable … It doest not mean that the deficiency in human development has been removed.
"Bangladesh deserves achieving milestone. But the topic of discussion should now be the real economy, which is now in a crisis. Economic growth is stagnant at 6%, indicating that the country is suffering from underemployment."
Zillur said the journey from lower middle-income to higher middle-income will be totally different from the journey from low-income to lower middle-income. The new journey will need inclusive politics and effective economic governance, he said.
Bangladesh Bank Governor Atiur Rahman tweeted that the country needs hard work for achieving sustainable development and step into the upper middle-income arena.
Binayak Sen, research director at Bangladesh Institute of Development Studies (BIDS), said income inequality has been rising alongside per capita income. "There are three types of inequality – income, asset and consumption.
"Income and asset inequality in the society have become prominent in recent years," he said laying emphasis on improving the quality of education, healthcare, nutrition and other services.
He said there are many countries with the similar status but they are beset with many social unrests. "India and Pakistan are examples of such social instability," Sen said.
According to the World Bank website, India, Pakistan, Bhutan, Sri Lanka and Myanmar are some of Bangladesh's neighbours that are recognised as lower middle-income countries.
Dr Zahid Hussain, lead economist at the Dhaka office of the WB, said this is a formal recognition for Bangladesh. "This is a journey for further advancement. Bangladesh's challenge is how to retain the status."
Bangladesh should concentrate more on infrastructure development and attracting investment  to retain the status and reach the next step, he said.
Ahsan H Mansur, executive director at the Policy Research Institute of Bangladesh (PRI), said that this is a recognition for Bangladesh's continuous economic improvement. He said this recognition might also help improve the sovereign rating of Bangladesh.
Mustafizur Rahman, executive director of economic think tank Centre for Policy Dialogue (CPD), said: "Addressing inequality and distribution problems are the keys to becoming a upper-middle income country. However, for the graduation we need to raise income to $4,126, which is still a long way."

He also reminded that Bangladesh is still a least developed country, also known as LDC.

"To get out of the LDC status, the country needs to improve income and human asset index, whose progress is till very poor. But one positive is that Bangladesh has already gone past the economic unrepeatability index – one of the three criteria for shedding the LDC status," Mustafiz said.