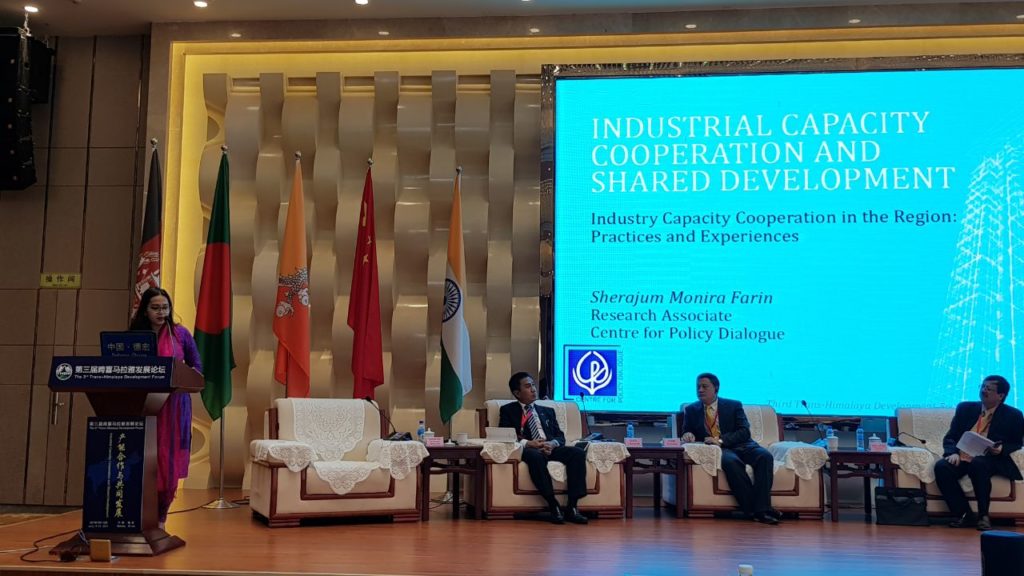 CPD Research Associate Ms Sherajum Monira Farin made a presentation on Industrial Capacity Cooperation in the Region: Practices and Experience at the third Trans-Himalaya Development Forum, during 10-11 July 2017, in Mangshi, China. The primary focus of her presentation was the industrial policies of Bangladesh, their evolution and the significant role of international cooperation in industrial development.
This year the theme of the Forum was Industrial Capacity Cooperation and Shared Development. This forum was organised by China Institutes of Contemporary International Relations (CICIR), in collaboration with the Dehong local government of the Yunnan Province, China. There were 200 participants from seven different countries this year. Ms Farin was among the three participants from Bangladesh.
The two-day long programme discussed on myriad of interesting ideas on regional trades and developments. Development of infrastructure of this region, talent cultivation, innovational capacity cooperation, shared energy projects, increased bilateral trade and investment between different trans-Himalayan nations, employment generation to tackle militancy, and role of think tanks in policy suggestion – are some of the noteworthy ones.