The Sustainable Development Goals (SDGs) for the 2030 Agenda for Sustainable Development are not only an agenda belonging to either the government, private sector or civil societies but those should be considered as the citizens' agenda.
Every citizen should be informed about the SDGs that the government should publicise as much as possible for increasing awareness about the goals and ensuring successful delivery of the targets in the context of Bangladesh.
The observation was made by Sir Fazle Hasan Abed, Founder Chairperson of BRAC, also Member of CPD Board of Trustees while addressing a dialogue on "National Level Implementation Challenges of 2030 Agenda," as the Chair at BRAC Centre Inn Auditorium on Saturday 31 October 2015.
The dialogue, organised by Centre for Policy Dialogue (CPD) in association with Southern Voice on Post-MDG International Development Goals and in partnership with Friedrich-Ebert-Stiftung (FES), Bangladesh Office, convened a wide range of stakeholders to deliberate on ways to align SDGs implementation with national planning and policy processes in Bangladesh.
In addition to addressing the weaker areas from the MDGs, particular emphasis should be laid on SDG 16 on "Promote peaceful and inclusive societies for sustainable development, provide access to justice for all and build effective, accountable and inclusive institutions at all levels," observed the participants.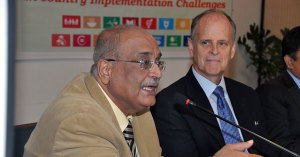 Addressing as the keynote speaker, CPD Distinguished Fellow Dr Debapriya Bhattacharya also, Chair of Southern Voice on Post-MDGs, put forth management, coordination and leadership issues for SDG implementation; data-related issues and capacity of the national statistical agencies; and partnership and stakeholder participation including institutional arrangements.
Financing would be one of the biggest challenges for the SDGs in developing countries like Bangladesh at a time when the global economy is experiencing a setback resulting in depleting overseas aid, noted Dr Bhattacharya while speaking on the means of implementation including systemic issues.
He also urged establishment of a citizen's platform alongside political will at all levels in favour of implementation to ensure strengthened accountability and legitimacy and to address systemic issues.
Mr A H M Mustafa Kamal, MP, Hon'ble Minister for Planning addressed the dialogue as the Chief Guest, Mr Md Shahidul Haque, Secretary, Ministry of Foreign Affairs addressed the Special Guest, Mr Robert Watkins, UN Resident Coordinator and UNDP Resident Representative in Bangladesh addressed as the Guest of Honor.
Following introductory remarks by CPD Executive Director Professor Mustafizur Rahman, the keynote presentation was complemented by Discussants Dr Saleemul Huq, Director, Intrenational Centre for Climate Change and Development (ICCCAD) and Dr Md Khairul Islam, Country Representative, WaterAid Bangladesh.

The floor discussion was addressed by Ms Beate Elsässer, Deputy Head of Mission, Political, Cultural and Economic Affairs, Embassy of Switzerland; Mr Nick Beresford, Deputy Country Director (Operations), UNDP Bangladesh; Dr A B Mirza Azizul Islam, Former Advisor to the Caretaker Government; Mr Srinivas B Reddy, Country Director, ILO Dhaka Office; Dr Manzoor Ahmed, Senior Advisor, BRAC University – Institute of Education and Development (BU-IED); Dr Momtaz Uddin Ahmed, Former Professor of Economics, Dhaka University; Mr Saber Hossain Chowdhury, MP, President, Inter-Parliamentary Union (IPU); Mr Humayun Khalid, Member, Socio Economic Infrastructure Division, Planning Commission; Architect Khadem Ali, Former Chairman, Centre for Urban Studies; Mr M Syeduzzaman, Former Finance Minister; Mr Asgar Ali Sabri, Director, Programme, Policy and Campaigns, ActionAid Bangladesh; Ms Sheepa Hafiza, Director, Gender, Justice  & Diversity and Advocacy, BRAC; Mr Arastoo Khan, Member, Physical Infrastructure Division, Planning Commission; Mr Md Shahidullah Azim, Former Vice President, BGMEA among others.