By analysing the coherence of existing subsidy distribution policies, a comprehensive national subsidy policy should be formulated to ensure governance and financial transparency of subsidy distribution mechanism and propose viable and beneficial alternatives when applicable.
The observation emerged from a dialogue on "Subsidy Management in Bangladesh: Efficiency and Equity Issues," held in Lakeshore Hotel, on Saturday 2 May 2015.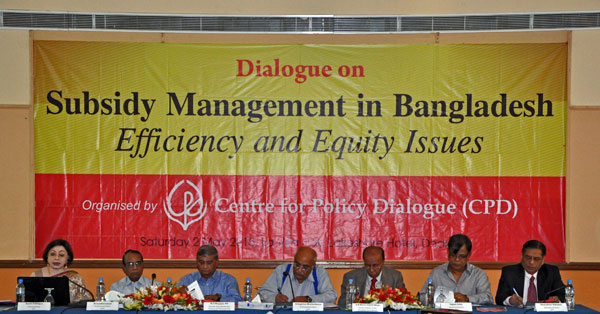 Noting the significance of subsidy as an important policy instrument in the national budget, CPD Executive Director Professor Mustafizur Rahman observed that despite creating fiscal pressure, subsidy also eases pressure from some areas. He felt that decisions as regards subsidy ought to be made by taking cognisance of fiscal pressure on the one hand and the interests of producers and consumers and the sectoral development strategies on the other.
Dr Debapriaya Bhattacharya, Distinguished Fellow, CPD observed that Bangladesh underwent major infrastructural changes in the last decade and subsidy has been utilised across different sectors over time. With the recent fall of fertiliser and oil prices in the international market, the government can now pay attention to subsidy management and consider formulating a national policy for subsidy regulation and proposing better alternatives when appropriate.
In the presentation on "Understanding Efficiency and Distributional Equality of Subsidy in Bangladesh," CPD Visiting Fellow Dr Kaniz Siddique explored whether subsidy as a policy tool is fiscally sustainable when used not only to address market failure and equity but also to mitigate government failure. The study also examined the how intended objectives of subsidies in various sectors are attained through the present delivery mechanism.
By looking at subsidies in the export, food, national energy, power sector and national agricultural policies in Bangladesh, the study found that subsidy was not a major macro instability and unsustainably threat as the government has been able to maintain a "comfortable and manageable" level of fiscal deficit.
For being of complex nature and a non-transparent fiscal instrument, Dr Siddiqui favoured using subsidy as little as possible to ensure sustainability at macroeconomic level. She recommended to undertake beneficiary assessments of each subsidy and trace its economic and social impacts by identifying and using the transmission mechanisms of different types of reform on specific areas and groups of people.
Chief Guest Mr M A Mannan, MP, Hon'ble State Minister for Finance and Planning, observed that the government primarily uses subsidy intending to reduce inequality and poverty. It cannot be withdrawn suddenly due to its contribution to and pervasiveness in the economy.
Discussant Dr M Asaduzzaman, Professorial Fellow, Bangladesh Institute of Development Studies (BIDS) felt that the government cannot decide on its own on the usage of subsidy as circumstances are not only related to national scenario but also to global context. In case of lowering subsidy in agriculture, he urged the government to increase efficiency and implement structural reforms.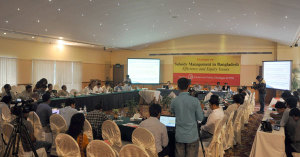 Another Discussant Dr Sajjad Zohir, Executive Director, Economic Research Group (ERG), emphasised on finding a more comprehensive and agreed definition of subsidy. He did not endorse the idea of choosing either the market price, economic price or accounting price as a reference price on which the size of subsidy should depend.
With comments from Guest of Honour Dr A B Mirza Azizul Islam, Former Advisor to Caretaker Government, the floor discussion was addressed by Dr Akhter Ahmed, Chief of Party, IFPRI; Dr Shamsul Alam, Member, General Economics Division, Planning Commission; Dr Minhaj Mahmud, Head of Research, BIGD; Dr Bimal Kumar Saha, Senior Research Fellow, BIDS; Professor Dr Md Abul Bashar and Associate Professor Mr A S M Golam Hafeez from Department of Agricultural Finance, Bangladesh Agricultural University; Mr Humayun Rashid, Senior Vice President, DCCI; among others.