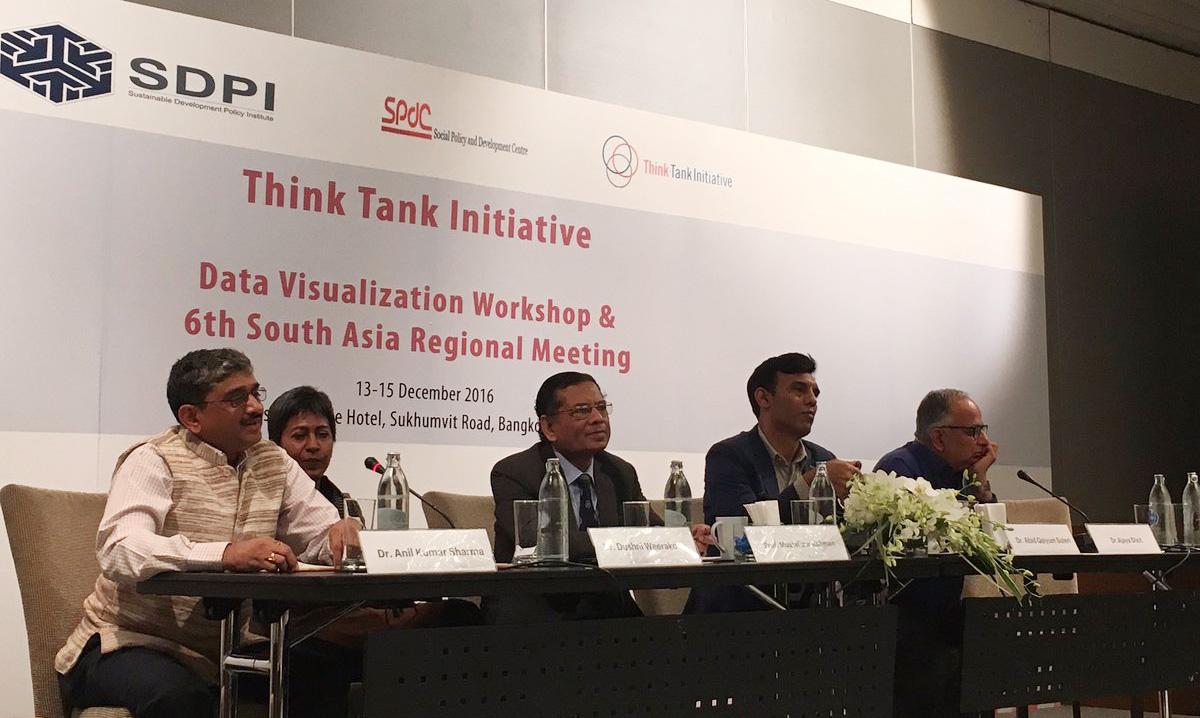 A three-member CPD team participated at the Think Tank Initiative's (TTI) Regional Meeting on 14-15 December 2016 in Bangkok, Thailand. The assembly of South Asian think tanks was organised jointly by the Sustainable Development Policy Institute (SDPI), Pakistan and International Development Research Centre (IDRC), Canada. The objective of the meeting was to discuss the future avenues for think tanks in research, capacity building, and engagements with policymakers and private sector. A workshop titled Think Tank Initiative's (TTI) Meeting and Data Visualisation Workshop was also held by the organisers, prior to the meeting, on 13 December 2016.
Executive Director Professor Mustafizur Rahman, Distinguished Fellow Dr Debapriya Bhattacharya and Research Director Dr Fahmida Khatun of CPD participated at various sessions of the two-day meeting.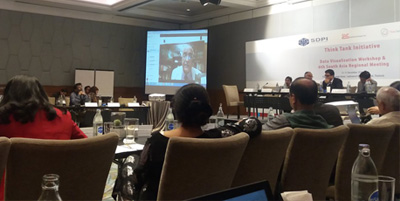 Senior Research Associate Mr Md. Zafar Sadique, CPD took part at the workshop to present Data Challenges for SDGs and Southern Voice Experience. Dr Bhattacharya was the moderator of this session on "Using Data Visulisation for Story Telling."
Dr Bhattacharya was also among the panelists at the inaugural plenary on "Contextual Changes and its Impact on Think Tanks – Taking Stock of National, Regional and Global Trends." This session aimed at taking stock of key political economy changes at the national, regional and global level and how these changes will impact policy research, engagement and capacity building pursuits by think tanks. Dr Bhattacharya was a speaker at a technical session on "Strengthening Capacities for SDGs: the Case of Health and the Role of Think Tanks." The objectives of this session were to explore the ways think tanks can contribute in realisation of the SDGs, by taking health as an exemplary thematic area, and identifying other potentially interesting thematic areas.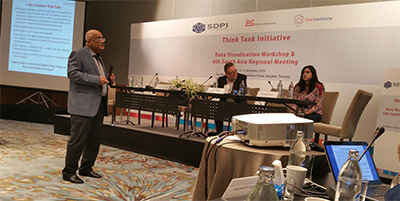 Dr Khatun was among the discussants in a technical session on "Capacity Building Initiatives for South Asian Think Tanks." This session provided an introduction to under-design capacity building initiatives for South Asian think tanks, aimed at helping research and communications teams to better use monitoring, evaluation, accountability and learning tools.
Professor Rahman was present at the closing session of the meeting as a panelist. The session discussed the outcome of the meeting and the aftermath from the TTI. The event was participated by renowned experts and participants from a number of think tanks from South Asia.