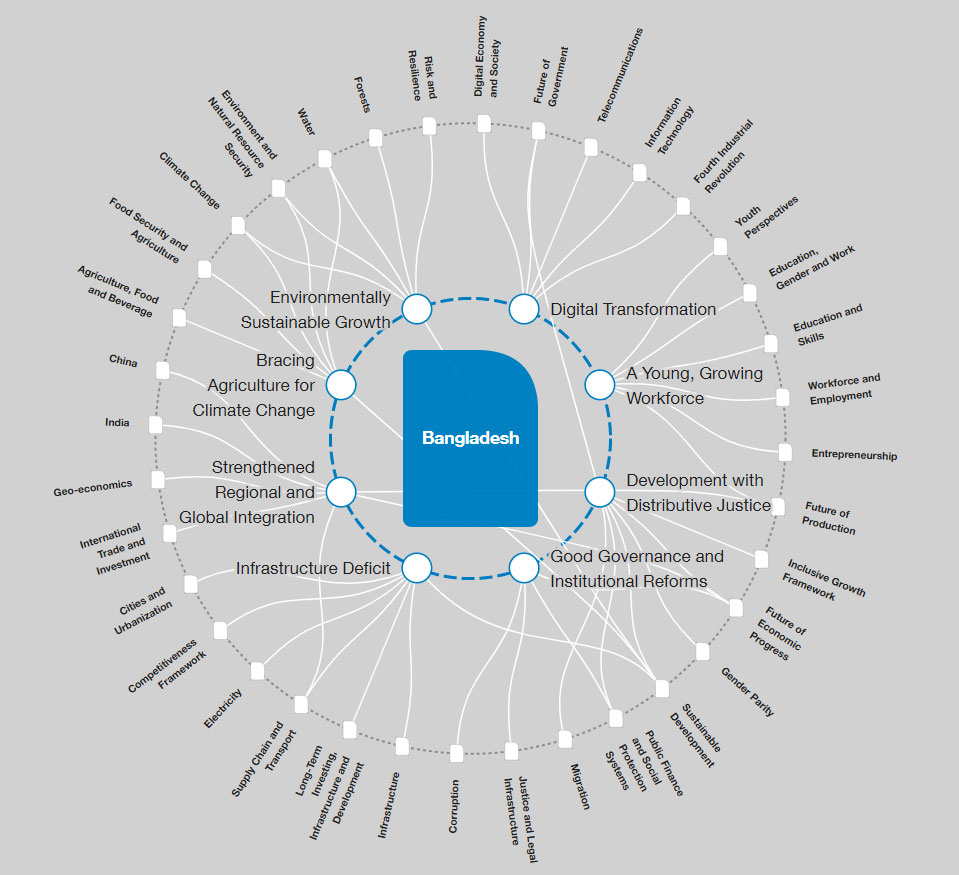 Professor Mustafizur Rahman, Distinguished Fellow and Mr Estiaque Bari, Senior Research Associate, respectively, at Centre for Policy Dialogue (CPD) have co-curated the Bangladesh chapter of 'Transformation Maps' developed by the World Economic Forum (WEF).
In the Bangladesh chapter, the co-curators from CPD, in collaboration with WEF, have highlighted that Bangladesh has made impressive strides following the country's independence in 1971, in terms of food security, poverty alleviation, the global integration of its economy, and health and education. However, the country's status as one of the most densely populated and most vulnerable to climate change countries in the world, present formidable challenges. Significant resources must be tapped in order to address large infrastructure deficits, agricultural practices must better adapt to climate change, electricity must be provided to all, inequality must be reduced, and decent jobs must be provided to the many young people joining the workforce, they emphasised.
The 'Transformation Maps' are dynamic knowledge tool to understand the issues and forces driving transformational change across economies, industries and global issues. The maps incorporate expert and machine-curated knowledge allowing users to visualise and understand more than 120 industries, countries and issues shaping the modern world. It aims to support more informed decision-making by world leaders, businesses, policymakers, civil society and academia.
To explore the map, please visit this link:
https://toplink.weforum.org/knowledge/insight/a1Gb0000001kymnEAA/explore/summary