CPD Executive Director Professor Mustafizur Rahman and Distinguished Fellow Dr Debapriya Bhattacharya participated in the WTO Public Forum 2015 on "Trade Works" during 30 September – 2 October 2015 in Geneva, Switzerland.

The Public Forum is the WTO's largest annual outreach event providing a platform for representatives from civil society, academia, business, the media, governments, parliamentarians and inter-governmental organizations to discuss the latest developments in world trade and to propose ways of enhancing the multilateral trading system.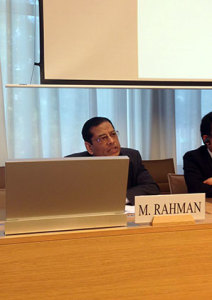 As a panellist, Professor Rahman joined the working session on To Be or Not to Be in a Megadeal/Plurilateral Agreement: How to Articulate Exclusive Deep Integration Agreements with Inclusive Rules? organised by CPD and IDEAS Centre on 30 September. The session addressed the impact of deep integration processes on outsiders and how WTO should contribute to limit potential negative effects of WTO trade rules on its poorest members and ensure that its role as the guarantor of an inclusive multilateral trading system is not eroded.
Other panellists were Ronald Saborio, Chair of the DSB Special Session, Darlington Mwape, Senior Fellow, ICTSD, Brendan Vickers, Economic Adviser (Regional Trade and Integration Issues), Trade Division, Commonwealth Secretariat, Nicolas Imboden, Executive Director, IDEAS Centre and Amina Mohamed, Cabinet Secretary for Foreign Affairs and International Trade, Kenya.
On 1 October, Dr Bhattacharya served as a panellist at the working session on Multilateral Framework on Competition: Is it an effective antidote to counter anti-competitive market distortions for trade to work better? organised by CUTS International. The session involved discussion on interface between trade and competition and the role of WTO in addressing competition induced distortions to trade, for trade to work better in the backdrop of increasing number of emerging economies adopting competition law and policy and playing a proactive role in world trade.
Other panellists were Frank Matsaert, Chief Executive Officer, Trade Mark, Kenya, Robert Anderson, Counsellor, Intellectual Property & Investment Division, World Trade Organization (WTO), Switzerland, Philippe Brusick, Chair, CUTS International, Geneva, Kwame Owino, Chief Executive Officer, Institute of Economic Affairs, Kenya, Anthony Amunategui Abad, CEO, Trade Advisory Group, Philippines and Harsha Vardhana Singh, Former Deputy Director General, WTO, Switzerland.
On the same day, Dr Bhattacharya was a panellist at the working session on Trade works through innovative partnerships for the implementation of the 2030 Agenda, organised by Global Social Observatory (GSO). This session aimed to have a better understanding of the opportunities as well as the challenges for truly multi-stakeholder partnerships involving NGOs and other civil society groups, the private sector, governments and international organisations and for their role in making trade work for inclusive and sustainable development.
Other panellists were Ricardo Meléndez-Ortiz – Chief Executive, ICTSD, Thomas Bombelles, Head Global Health, WIPO, Roberto Vega, Head of Product and Smallholder Policy at Syngenta and Marcela Manubens, Global Vice President for Social Impact.
On the last day, Professor Rahman attended a workshop on Restoring Multilateral Trade Cooperation in a Multipolar Global Economy: What is the Future of the WTO? organised by South African Institute of International Affairs (SAIIA). This session discussed various ways of closing the gap between developed and developing country members of the WTO. It will reflect ongoing work by a high level group on the implications of the shifting sands of alliance possibilities in the WTO, rooted as these are in broader geopolitical dynamics.
Other participants were Peter Draper, South African Institute of International Affairs, Richard Cunningham, the Cordell Hull Institute, USA, Xinquan Tu, China Institute for WTO Studies, University of International Business Economics, China, Vera Thorstensen, Fundação Getúlio Vargas, Brazil and Babajide Sodipo, African Union Commission, Ethipoia.