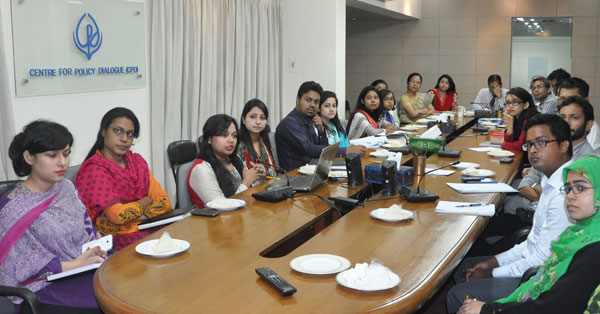 As a part of the Young Scholars' Seminar Series (YSSS), a paper on "Reflecting gender issues in Post-2015 Development Agenda" was presented at CPD Dialogue Room on 18 August 2014.
CPD Research Associate Ms Umme Salma, in her presentation, covered three major areas. Firstly, systemic flaws of current MDGs in addressing structural issues for empowering women and ensuring gender equality. Secondly, gender specific performance analysis of MDGs particularly focusing on the Bangladesh Case. This section also dealt with how gender issues are reflected in the major institutional papers dedicated to develop proposal on Post- 2015 Development Agenda to the UN Secretary General for shaping the ultimate Post-2015 Development Agenda. Finally, the presentation posed some parting thoughts on gender reflections in Post-2015 Development Agenda.
Ms Salma gave a summary of the presentation as follows: MDGs are approaching to an end in 2015 and with that efforts are being taken to craft the set of goals to ensure reflecting core requirement of sustainability and equity. Needless to say, inclusive and equitable growth cannot happen without taking into consideration the role of women while half (49.59%) of the world's population and 39.76 per cent of total labor force are women.
The design of MDGs shows that there is an exclusive gender dedicated goal i.e. Goal 3 (Promote gender equality and empower women) and there are cross-cutting goals as well for women. But these goals do not deal with the structural issues such as labour wage discrimination, labour segmentation, disproportionate share of women for unpaid work, developing productive capacity, inclusion of vulnerable and marginalized women and many more.
In this connection, Bangladesh is an interesting country-case to study gender dimensions in MDGs where major milestones have been achieved mostly in achieving parity in primary and secondary education. However, there still remains a lot to be done in this area.
Referring to a study titled "Attaining the MDGs How Successful are the LDCs?" reveals that Bangladesh (along with Cambodia) holds on 2nd position out of 48 LDCs (based on selected 14 indicators).  Though Bangladesh is doing quite well, other than gender parity in primary and Secondary education, Bangladesh is doing very poor in achieving Economic Gender Parity.  This can be related to the fact that current MDGs did not deal with the structural issues. Question therefore is raised whether key institutions on post-2015 are taking into account the lessons (Strengths and Weakness) from the current MDGs.
Reviewing the proposals on Post-MDGs shows that there is a strong consensus that the two track approaches (a dedicated and exclusive goal on gender and cross-cutting goal) should be continued like MDGs. Later on, focus was shifted to the gender aspects of the final outcome document of Open Working Group (OWG).
As per the report around 59% of the gender specific targets are related to social issues. Apart from that, there are gender specific Means of Implementation (MoI) targets. It was also found that OWG outcome document does not include adequate Gender Responsive Budgeting (GRB) targets or gender parity accountability mechanism.
The presentation ended with some parting thoughts such as whether the final architecture of Post-MDGs will be in favor of gender equality, whether it will include ways to achieve balanced transformative Gender Agenda, whether adequate Means of Implementation targets (MoI) for empowering women and promoting gender balance will be included in the Post-2015 Development Agenda.