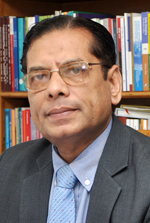 Distinguished Fellow
Email: mustafiz@cpd.org.bd
Telephone: (+88 02) 9110211
Fax: (+88 02) 8130951
Professor Mustafizur Rahman is Distinguished Fellow at the Centre for Policy Dialogue (CPD). Earlier he had served as Executive Director, CPD (October, 2007 – February, 2017), prior to which he was CPD's Research Director (1998-2007).
Dr Rahman joined the Department of Accounting and Information Systems, Faculty of Business Studies, University of Dhaka as an Assistant Professor in 1986. Having taught for twenty-five years, Professor Rahman took voluntary retirement from the University in 2012. He was awarded the prestigious Ibrahim Memorial Gold Medal by the University of Dhaka for excellence in research in 1999 and served as a member of Dhaka University Senate during 2009-2013.
Professor Rahman did his Masters in Economics, with Distinction, from the Kharkov State University, Ukraine (1981). His Ph.D dissertation at the Moscow State University, Russia was on structural impediments to Bangladesh's economic growth. He has continued to remain interested in this and related themes, particularly from the perspective of designing appropriate policies and addressing implementation challenges. At the same time, his academic interests and professional pursuits have led him to a range of other areas of contemporary relevance for Bangladesh and other low income economies, in national, regional and global contexts. Professor Rahman's current research interests include Bangladesh's fiscal-monetary policies and macroeconomic management, trade policies and trade reforms in developing countries, regional trading arrangements and free trade agreements, trade-poverty nexus, multilateral trading system and interests of low income countries, and graduation of LDCs. He has published widely in professional journals both in Bangladesh and abroad, and has authored books and monographs in areas of his interest and expertise.
Dr Rahman did post-doctoral research at the University of Oxford, UK, Pakistan Institute of Development Economics (PIDE), Islamabad (1995), Institute of Southeast Asian Studies (ISEAS), Singapore (1998), Yale University, USA as a Senior Fulbright Fellow (2003) and Warwick University, UK (2006) as a Visiting Fellow.  Professor Rahman has conducted research in collaboration with a number of international organisations and institutions including UNCTAD, UNESCAP, The World Bank, GDN, ADB, Commonwealth Secretariat, European Commission and the ILO.
At different points in time Professor Rahman has served as member of various national bodies and committees set up by the Government of Bangladesh. These include WTO Advisory Committee, National Coal Policy Review Committee, Regulatory Reforms Commission, Committee to review National Sustainable Development Strategy, National Task Force to Monitor the Impact of Global Financial Crisis and Core-committee on Transit and Connectivity. Dr Rahman served as member of the Panel of Economists for Bangladesh's Sixth and Seventh Five Year Plans and successive Perspective Plans.