2030 Development Agenda in Bangladesh context
Debapriya Bhattacharya conducts lectures for government officials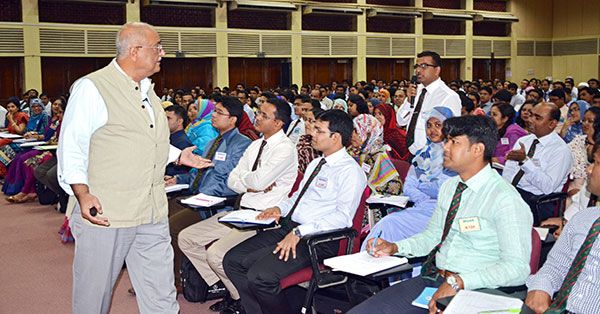 On invitation, CPD Distinguished Fellow Dr Debapriya Bhattacharya delivered lectures on Bangladesh Vision 2021, Seventh Five Year Plan and 2030 International Agenda for government officials at Bangladesh Public Administration Training Centre (BPATC) in Savar, Dhaka.
On 27 October 2015, Dr Bhattacharya addressed over 360 government officers attending BPATC's Foundation Training Course (FTC) on "Bangladesh: Vision 2021 and Post 2015 International Development Agenda."
Also on 8 November 2015, twenty seven officers at the level of Deputy Secretary from the Bangladesh Civil Service and two officers from the Armed Forces attended BPATC's Advanced Course on Administration and Development (ACAD) on Bangladesh Vision 2021 and Post-2015 International Development Agenda.
Dr Bhattacharya, a leading expert on the MDGs and Sustainable Development Goals (SDGs), Chairs the Southern Voice on Post-MDG International Development Goals, a network of 48 thinks tanks from Africa, Asia and Latin America, which serves as an open platform to make contributions to the international discourse on what should succeed the MDGs.