Democracy cannot sustain without free-thinking, freedom of speech and participatory politics, observed Dr Debapriya Bhattacharya, Distinguished Fellow, CPD while addressing a local-level dialogue on the civil society's role in dealing with political uncertainties.
The local-level dialogue styled "বর্তমান পরিস্থিতিতে নাগরিক সমাজের ভূমিকা ও করণীয় শীর্ষক," among eminent citizens in Chanpur, Bangladesh was held on Sunday, 4 January 2015 also discussed how Bangladesh has progressed in last four decades since independence.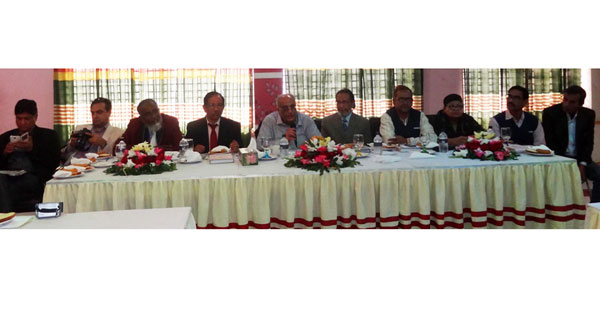 The dialogue, chaired by Professor Monohor Ali, former Chairman, Shocheton Nagorik Committee (SANAK) and Transperancy International Bangladesh (TIB), was widely attended by eminent citizens of Chandpur.
Addressing the prevailing violence and blockade in an uncertain political situation, Dr Bhattacharya noted that civil societies in a pluralist democracy are not alternatives to the government or political parties. Politicians are to govern the country but civil societies must essentially be nonaligned with political parties.
The civil societies must remain against politicised agenda but should possess strong ideals, he said, adding that many such societies are not meant to limit themselves to talk shows but take it to the streets, if necessary, to speak for the people. The government should take cognisance of these opinions and ensure good governance.
The dialogue was addressed by Professor Mihir Lal Saha, Principal, Chandpur Government College; Professor Mohammad Hossain Khan, President, SUJAN, Chandpur; Mr Kazi Sahadat, President, SANAK; Business Delegation Leader Mr Anwar Hossain Belu; Freedom Fighter Dr Syeda Badrun Nahar Chowdhury; Mr Iqbal Bin Bashar, Editor, Chandpur Kantha; Mr Shahid Patwary, President, Chandpur Press Club; Mr J E Mamun, Head of News, Jamuna TV; Mr Pranab Saha, News Editor, ATN News; among many academics, lawyers and local civil society members.