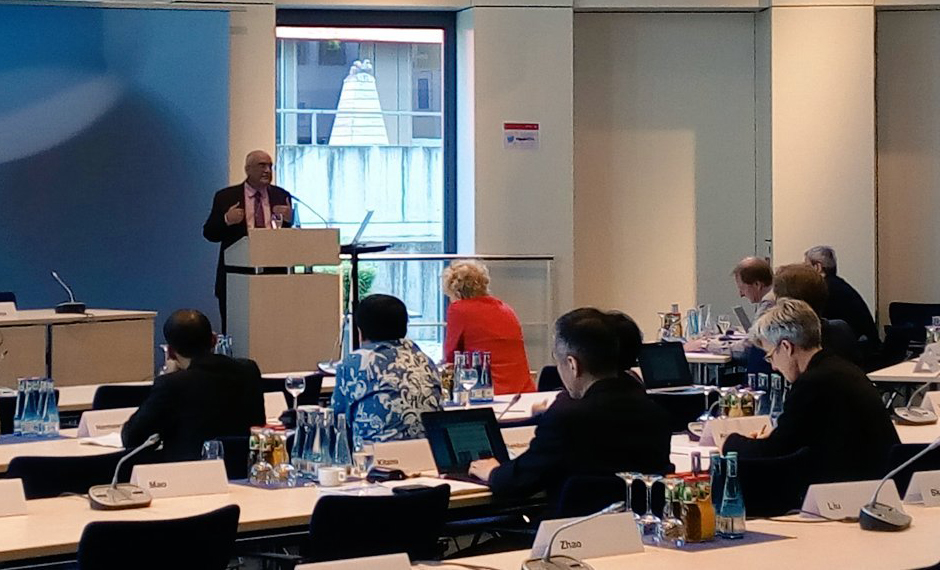 Dr Debapriya Bhattacharya, Distinguished Fellow at the Centre for Policy Dialogue, was invited to address the Berlin T20 (Think-tanks 20) conference organised by the German Development Institute (DIE), Shanghai Institutes for International Studies (SIIS) and Friedrich-Ebert-Stiftung (FES). The conference took place on 12-13 May 2016.
Dr Debapriya, who is also the Chair of the global initiative viz. Southern Voice on Post MDGs, was a panelist at the fourth session of the conference, which deliberated upon "the G20's contribution to an inclusive world economy".
The other panelists of the session were Dennis Snower, Kiel Institute for the World Economy, Germany, and Sachin Chaturvedi, Research and Information System for Developing Countries (RIS), India. The session was co-chaired by Imme Scholz, DIE and YE Jiang, SIIS.
The conference, which was under the official programme of the three Chinese think tanks mandated by their government to lead the T20 process during the country's G20 presidency in 2016, dealt with the inputs of the G20 to SDG implementation, with special focus on international cooperation in support of developing countries.
People, Planet, Prosperity and Partnership, which are key dimensions of the SDG document, were embedded into the programme.
The conference also explored the priorities of the Chinese presidency and investigated possible linkages to the German G20 presidency in 2017.