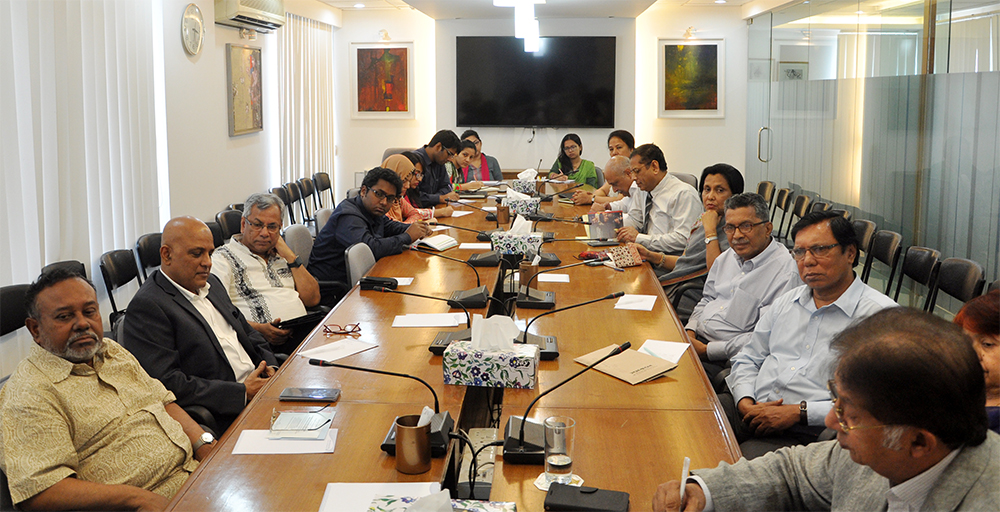 What is wrong with the World Economic Order? Among many issues discussants voiced on special and differential treatment of few countries for setting global economic agenda. Furthermore the current quota based decision-making power in the world economic order is suffering from democratic deficiency. The economically strong countries lacking political power such as China, is seeking new world order. Besides, the continuing role of US Dollar as an international reserve currency is halting the new economic order. The Chinese virtue of reserve power is critical in impacting the international reserve currency of the new order to gold standard.
Such observations emerged from a Centre for Policy Dialogue (CPD) in-house dialogue on Contribution of the Emerging Economies to the Restructuring of the Global Economy presented by Ambassador Muchkund Dubey, Chairman of Council for Social Development and Former Foreign Secretary, Government of India on 28 March 2016 at CPD Dialogue Room.
Mr M Syeduzzaman, Member, CPD Board of Trustees and Former Finance Minister, moderated the discussion raising questions whether there is any problem in existing global economic order. He also ignited the discussion by requesting for an appropriate definition of emerging economies.
Ambassador Muchkund Dubey defined emerging economies as group of countries which have maintained high rate of economic growth than the average over a period of time. He singled out China as the biggest role player in world economic order where Russia is the odd country out.
CPD Executive Director Professor Mustafizur Rahman, in his remarks, reminded that the world is in transit between passing the unsettled and settlement of the new economic order. Revival of silk route and other physical corridors would increase global connectivity and bring about convergence of interest. So it would take more time for the economic forces to influence the political dimension of the global (economic) order, he added.
The global financial crisis in 2008-09 pushed the world economy to a new order said CPD Distinguished Fellow Dr Debapriya Bhattacharya. He observed that the G-20 would be the major player in the new global economic order ushering more just, equitable and prosperous global economy.
The discussion was also participated by Ambassador Mr Shamsher Mobin Chowdhury, Former Foreign Secretary; Ambassador Munshi Faiz Ahmad, Chairman of Bangladesh Institute of International and Strategic Studies (BIISS); Ambassador Muhammad Zamir, Former Chief Information Commissioner; Ambassador Ashfaqur Rahman, Chairman of Centre for Foreign Affairs Studies; Ambassador M Humayun Kabir, Vice President of Bangladesh Enterprise Institute (BEI); Dr K A S Murshid, Director General of Bangladesh Institute of Development Studies (BIDS); Dr A K Enamul Haque, Professor of Economics, East West University; Dr Amena Mohsin, Professor of International Relations, University of Dhaka;  Mr Ajoy Dasgupta, Associate Editor and Head of Editorial Department, The Daily Samakal among others.