Eradication of poverty as envisioned by the Sustainable Development Goals (SDGs) will critically hinge on development of rural economies in the Least Developed Countries (LDCs), according to the UNCTAD's LDCs Report 2015.
In this regard, exploiting the synergies between agricultural upgrading and diversification into productive non-farm activities would be a key requirement for what the report termed as "Poverty-Oriented Structural Transformation (POST)" of rural economies.
CPD Research Fellow Mr Towfiqul Islam Khan shared salient features of the report subtitled "Transforming Rural Economies" with journalists at a CPD media briefing on Thursday, 26 November 2015, coinciding with the report's global launch on the same day. He also laid out a comparative analysis of Bangladesh's performance and recent trends in the LDCs to relate to the relevant policy interventions stated in the report.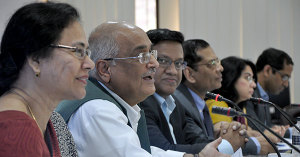 CPD Distinguished Fellow Dr Debapriya Bhattacharya highlighted that Bangladesh would need to prioritise human development to facilitate infrastructural development, employment of the poor, women's participation in the labour force and incorporate these strategies into the Seventh Five-Year Plan (7FYP) for structural development of agriculture.
Despite topping the chart for land productivity, Bangladesh is yet to maximise its labour productivity to improve its Land/Labour ratio which currently resides at the very bottom of the LDC performance evaluation, he Dr Bhattacharya.
CPD Executive Director Professor Mustafizur Rahman stressed that the 2030 Development Agenda requires equal emphasis on the urban and the rural while 69 percent of the global population is located in rural areas. The expected transformations would enable Bangladesh to graduate from the LDCs as well as help expedite income generation and human resource development altogether, he added.
Graduating from the LDCs would also increase Bangladesh's opportunity to avail commercial loans and enable the country to participate at many international negotiations that cannot be partaken as an LDC at the moment, underscored Dr Fahmida Khatun, Research Director, CPD.
Ms Anisatul Fatema Yousuf, Director, Dialogue and Communication and Dr Khondaker Golam Moazzem, Additional Research Director, CPD were also present. The briefing was followed by a Q&A with journalists from print and electronic media.