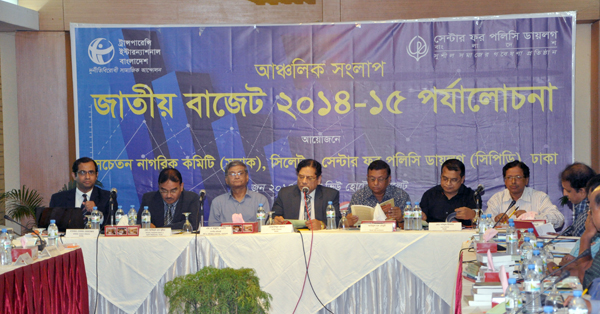 Deliberations on the CPD Analysis of the National Budget FY2014-15 gained regional outreach through a local level dialogue in Sylhet in association with the Sacheton Nagorik Committee (SANAC), Sylhet.
CPD Additional Research Director Dr Khondaker Golam Moazzem presented the keynote focusing on the state of the national economy, the long term implications of the budget on the economy and the local economy of Sylhet, at the dialogue held in Shahjalal Upashahar, Sylhet on Sunday 22 June 2014.
Analysis on the National Budget: Sylhet
Dr Moazzem underscored ten critical issues of the national budget FY2015 including public finance framework, efficiency in public expenditure, revenue generation by tax administration, incentives for reverting private investment and district budget allocation for Sylhet. 
Press Reports on the event
Professor Mustafizur Rahman, Executive Director, CPD chaired the event, addressed by Chief Guest Mr M A Mannan, MP, Hon'ble State Minister for Finance and Planning; Special Guests Mr Ariful Haque Chowdhury, Mayor, Sylhet City Corporation and Professor Dr Md Aminul Haque Bhuyan, Vice Chancellor, Shahjalal University of Science and Technology (SUST), Sylhet.
Discussants highlighted both national and regional issues including a number of suggestions towards issues covering revenue and expenditure; rise of tax base instead of tax rate; more allocation for private schools particularly for improving vocational and technical education; better allocation for the development of the disadvantaged groups; special allocation for the NGOs and reduction of corruption in the tax collection process.
Following a welcome remark from Advocate Irfanuzzaman Chowdhury, Coordinator Bangladesh Legal Aid and Services Trust (BLAST) Sylhet Unit, the two Designated Discussants Mr Mohammad Sadiqunnabi Chowdhury, Assistant Professor of Economics, SUST and Mr Faruque Ahmed Misbah, President, Sylhet Chamber of Commerce & Industry shared their perspectives on the keynote presentation and the budget.
Participants also highlighted issues related to development of Sylhet region including lack of allocation for infrastructure development in Sylhet include Dhaka-Sylhet four-lane highway; meager allocation for the tourism development in the region; insufficient allocation for education and health sectors; little attention for the improvement of the livelihood of the tea-workers; immediate implementation of SEZ; slow progress of ongoing ADP projects; lack of allocation for the development of the haor area of Sunamgonj district etc.
Mr Md. Shahidul Islam, Deputy Commissioner (DC) of Sylhet was the Guest of Honour.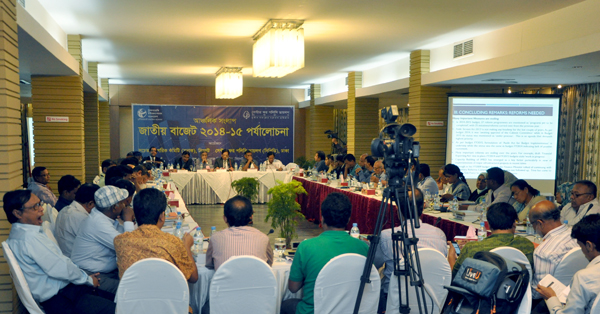 The floor discussion was widely attended by local academics, civil society representatives, government officials and former civil servants, lawyers and journalists.