Least Developed Countries (LDCs) including Bangladesh need reforms in domestic regulations taking cognisance of changes in the global economy to uphold their interest in the multilateral trading system in the upcoming WTO Geneva negotiation.
With quick completion of Doha Development Round (DDR), new discussions could set off to address emerging issues as regards investment and services sector as there has been major changes in the trade systems across the world, noted CPD Distinguished Fellow Debapriya Bhattacharya during the dialogue on "Recapturing the Momentum in the Post-Bali Process of the WTO," at Lakeshore Hotel on Sunday 22 November 2014.
The dialogue, organised by CPD and Friedrich-Ebert-Stiftung (FES), preceded the Dhaka Roundtable on "Reviving the Multilateral Trading System: Post-Bali Issues" to be held during 23-24 November 2014.
[box type="info"]
Press reports on the dialogue
[/box]
Keynote presented Professor Mustafizur Rahman, Executive Director, CPD noted that LDCs have been taking advantage of the multilateral trading system but their concerns and interests are hardly being reflected and addressed in the WTO.
He regretted that one year since Bali, there is hardly anything to show for as regards the 10 decision points adopted in Bali on the LDC package that comprised Duty-free and Quota-Free (DF-QF) market access, Preferential Rules of Origins (RoO), Operationalisation of the services waiver and Monitoring Mechanism on Special and Differential Treatment.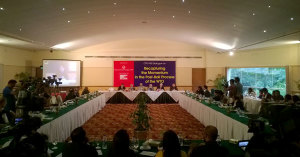 Panellist Professor Anwarul Hoda, Chair Professor, Trade Policy and WTO Research Programme, Indian Council for Research on International Economic Relations (ICRIER) said that we should look into the broader aspect of the DDR, some of the substantive DDR negotiations can be salvaged. Those should be concluded and only then there should be a new round. As this undergoes, notes should be taken of the new global developments in terms of the new global game and players such as rise of China.
Another Panellist Mr Richard O. Cunningham, Chairman, Cordell Hull Institute, Washington D.C. noted that the LDCs now need to focus on Global Value Chain (GVC) where production of goods and services are.
Panellist Professor Zhao Longyue, Director, China Center for International Development, Nankai University, China stressed that developing countries need to reevaluate their priority issues in this new global trade environment. They should focus beyond agriculture, adopt new strategies by reevaluating their domestic policies and improve the investment situations to participate in the multilateral trading arena.
In this regard, Dr Bhattacharya, also the event's Chair, called for much more stronger preparation of LDCs at home to succeed in the Geneva negotiations.
Presentations from Dialogue on Recapturing the Momentum in the Post-Bali Process of the WTO
Noting concerns of the collective status of LDCs in WTO, Mr Amitava Chakraborty, Director General (WTO Cell), Ministry of Commerce, observed that the LDCs are not united in terms of their collective interest. They put disproportionately high importance in Duty-Free Quota-Free (DF-QF) Access. The unity of LDCs have been diverged by developed countries in various ways.
Professor Rehman Sobhan, Chairman, CPD, as the Special Commentator, noted that the big issue is substantive changes in the world economy as new sets of players have now emerged in the global scene. Over the course of two decade since the WTO has been initiated, there have been changes in the competitive advantage both in trade and services sector; demographic changes have also enhanced competitiveness. He proposed to move away from multilateral into bilateralisation and regionalisation because economic competitive progress of previously richer countries have depreciated.
The dialogue was also addressed by Mr Henrik Maihack, Resident Representative, Friedrich-Ebert-Stiftung (FES) Bangladesh Office; Mr Bipul Chatterjee, Deputy Executive Director, CUTS International, Jaipur; Engineer Abdul Jabbar Memon, Member, Board of Governors, Sustainable Development Policy Institute (SDPI), Pakistan; Dr Biswajit Dhar, Professor, Centre for Economic Studies and Planning, Jawaharlal Nehru University, New Delhi; Mr Taufiqur Rahman, Counsellor, LDC Unit, WTO Development Division; Ambassador Munshi Faiz Ahmad, Chairman, Bangladesh Institute of International and Strategic Studies (BIISS); Mr Suhel Ahmed Choudhury, Former Commerce Secretary; and Dr A K M Atiqur Rahman, Professor and Dean, School of Arts and Social Sciences, North South University.
Presentations from Dhaka Roundtable on Reviving the Multilateral Trading System: Post-Bali Issues
Day 2: Sunday 23 November 2014, The Westin Dhaka
Session 1: WTO in the Post-Bali Phase: Whither LDC Issues?
Recapturing the Momentum in the Post-Bali Process
Professor Anwarul Hoda, Indian Council for Research on International Economic Relations (ICRIER)
Session 2: Plurilaterals, Systemic Concerns and the Interests of the LDCs
Plurilaterals, systemic concerns and the interests of LDCs
Taufiqur Rahman, WTO
Session 3: The Issue of Public Stockholding in the WTO
The issue of public stock-holding in the WTO and Food Security and WTO Domestic Support Disciplines post-Bali
Professor Alan Henry Matthews, Trinity College Dublin
Trade and Food Security
Mr Bipul Chatterjee, Consumer Unity & Trust Society (CUTS) International, India
Food Security and WTO Domestic Support Disciplines post-Bali
Professor Rina Oktaviani, Bogor Agricultural University, Indonesia
The Issue of Public Stockholding in the WTO
Dr Viroj Na Ranong, Thailand Development Research Institute (TDRI), Bangkok
Day 3: Monday 24 November 2014, The Westin Dhaka
Session 4:  Mega Trade-Blocs: Implications and Coping Strategies for the Excluded
Mega Trade-Blocs: Implications and Coping Strategies for the Excluded
Dr Biswajit Dhar, Jawaharlal Nehru University, New Delhi
Implications of Mega-Regional Agreements on the WTO and Developing Countries
Professor Longyue Zhao, Nankai University, China
Mega Trade-Blocs: Implications and Coping Strategies for the Excluded
Mr Ricardo Ginicolo Bacelette, Institute for Applied Economic Research (IPEA), Brasilia

Session 5: Participating in the Global Value Chain: How Low-Income Countries can Maximise the Potential Benefits
Participating in the Global Value Chain: How Low income Countries can Maximise the Potential Benefits?
Dr Khondaker Golam Moazzem, CPD
Participating in the Global Value Chain: How Low income Countries can Maximise the Potential Benefits?
Mr Richard O. Cunningham, Cordell Hull Institute
Global Value Chains: An opportunity for developing countries
Professor Rina Oktaviani, Bogor Agricultural University, Indonesia
Participating in the Global Value Chain: How Low income Countries can Maximise the Potential Benefits?
Dr Saman Kelegama, Institute of Policy Studies (IPS), Sri Lanka
Session 6: Post-2015 International Development Agenda and Multilateral Trading System
Post-2015 International Development Agenda and Multilateral Trading System
Professor Rina Oktaviani, Bogor Agricultural University, Indonesia