Published in Dhaka Tribune on Tuesday, 15 December 2015
Ibrahim Hossain Ovi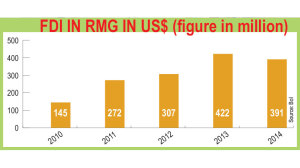 Foreign Direct Investment (FDI) in the country's ready made garment and textile sector have seen over 7% decline last year due to
slow export growth in the apparel sector.
RMG manufacturers and trade analysts attributed the reason to political unrest for the downswing of the FDI.
According to the Board of Investment (BoI) data, in 2014, Bangladesh's textile and RMG sector witnessed $391 million foreign investment, which was 7.34% less compared to $422 million in 2013.
Bangladesh's gross FDI was 2.05 billion in 2014.
Bangladesh needs FDI in backward linkage, textile and high-end products as it needs a large amount of capital and skilled manpower.
The sector people added that they do not need foreign investment in cutting and making units of RMG industry.
"As the demand for apparel products shrunk in the global markets due to recession and economic slowdown, it discouraged the investors from investing in the industry," said Khondaker Golam Moazzem, additional research director of Centre for Policy Dialogue.

Political instability was also the reason for slow FDI, but it was not the only reason, added Moazzem.

If the market becomes vibrant again, the investment will increase, said Moazzem.

The country's entrepreneurs should show positive attitude towards FDI as it will help transfer new technology and new knowledge to the industry, he forecasted.

If there is FDI for higher-end products, it will help Bangladeshi manufactures to add value to their products, said the CPD official.
Bangladesh needs foreign investment in backward linkage and high-end products as the country has already enough investment in forward linkage, sector people said.
"Investment in RMG sector was less than that of the previous year due to political unrest. Factory inspection was also another reason since it cost more to install safety equipment in factories," Exporters Association of Bangladesh (EAB) President Abdus Salam Murshedy told the Dhaka Tribune.
Bangladesh does not need any FDI in forward linkage, it needs investment in backward linkage, especially in textile and high-end products as it costs much to establish a factory, said Salam.
Currently, Bangladesh has 26 denim fabric producing factories, which meet about 45% of local demands and there is a huge opportunity of investment.
Currently, Bangladesh can meet 80% demand for knit fabric demand while 40% for woven fabric.