Published in Dhaka Tribune on Thursday, 4 August 2016
RMG market share rises to 5.9% defying odds
Ibrahim Hossain Ovi
Despite all odds, Bangladesh remains as the second largest exporter of clothing products after China as its market share rose to 5.9% in 2015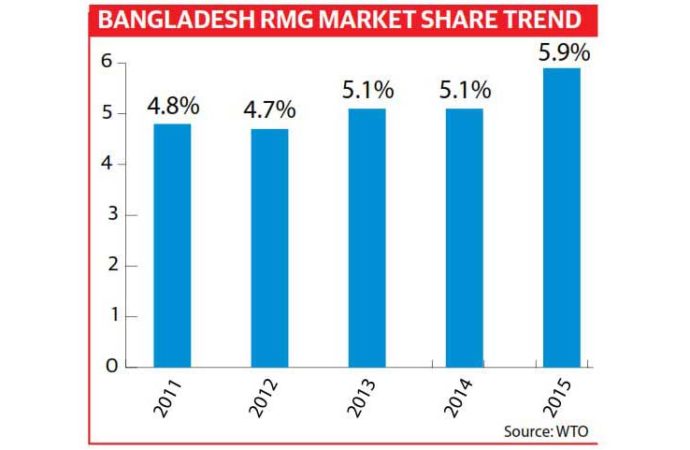 According to the World Trade Statistical Review 2016 released last month by the World Trade Organisation (WTO), Bangladesh global market share in clothing rose to 5.9% in 2015, which was 5.1% in the previous year.
China's market share stood at 39.3% topping the list, which was 38.6% in 2014.
The global market size of the RMG products is around $450 billion
However, there are threats for Bangladesh as its competitors like Vietnam and India are getting more share and posting better growth in export earnings.
Vietnam is the third largest market share holder, of which the market share stood at 4.8% in 2015 from 4.0% in the previous year.
India and Turkey are also seen to jump to 4.1% and 3.4% from 3.7% and 3.5% respectively.
Trade analysts and RMG manufacturers termed it positive indication for the future of apparel industry.
They attributed safety improvement after the Rana Plaza incident, government incentives for export to non-traditional markets and also relaxation of rules of origin by the European Union to the rise of the market share.
"It is a result of combined efforts of owners and workers as well as the government policy support for exploring new markets. Improvement of workers safety has acted as catalyst in placing more orders with boosted confidence," Bangladesh Garment Manufacturers and Exporters Association (BGMEA) vice-president Mahmud Hasan Khan Babu told the Dhaka Tribune.
Manufacturers are ready to take advantage from the China shifting to grab more market share, but the proposed hike in gas price will leave the sector in a great challenge to achieve the $50 billion export target by 2021, he said.
He argued if gas price is hiked, it will hurt backward linkage and also expansion of existing business.
Bangladesh needs over 13% growth for achieving the $50 billion export target. In the last fiscal year, Bangladesh earned $28 billion with over 10% growth.
"I think the market share would be about 7% within the next two years as a good number of green factories are in the offing for production, which would add new volume to the country's production capacity," Exporters Association of Bangladesh (EAB) president Abdus Salam Murshedy told the Dhaka Tribune.
If the government ensures utility services including gas and electricity, the target market share can be achieved, said Salam.
But it would also depend on the recovery of economy from the recession in the export destinations, he added.
Bangladesh has enormous opportunity to enlarge global market share as it started producing higher- and medium-end products.
Though China shifting opens new opportunity for manufacturers, they have to come up with new steps to grab more market share.
Buyers relocating their business from China is an advantage for Bangladesh.
To cash in on the China shifting, Bangladesh government and the manufacturers platform have to identify those relocating their business and build network with them, Khondaker Golam Moazzem, additional research director of Centre for Policy Dialogue (CPD) told the Dhaka Tribune.

Since the non-traditional export markets are playing an important role in RMG export, the government and manufacturers have to concentrate on non-traditional markets, he said.

On the other hand, RMG export to non-traditional markets rose by 10.48% to $4.31 billion, which was $3.9 billion a year ago.

Woven products have more contribution to export than those of knitwear. The market share of clothing products would be better if knitwear export growth had been similar with that of woven, Moazzem added.

For restoring the buyers' confidence, Moazzem suggested finishing the reforms of the RMG sector by next year to give a clear message that Bangladesh is safe for sourcing.

He also urged the government to take steps to relax the rules of origin for RMG products by importing countries and negotiate with the counties like India and Japan to reduce tariff as it helps boost export.
In the just-concluded fiscal year, Bangladesh earned $28.09 billion, exporting clothing products, which is 82% of the total export of $34.24 billion.