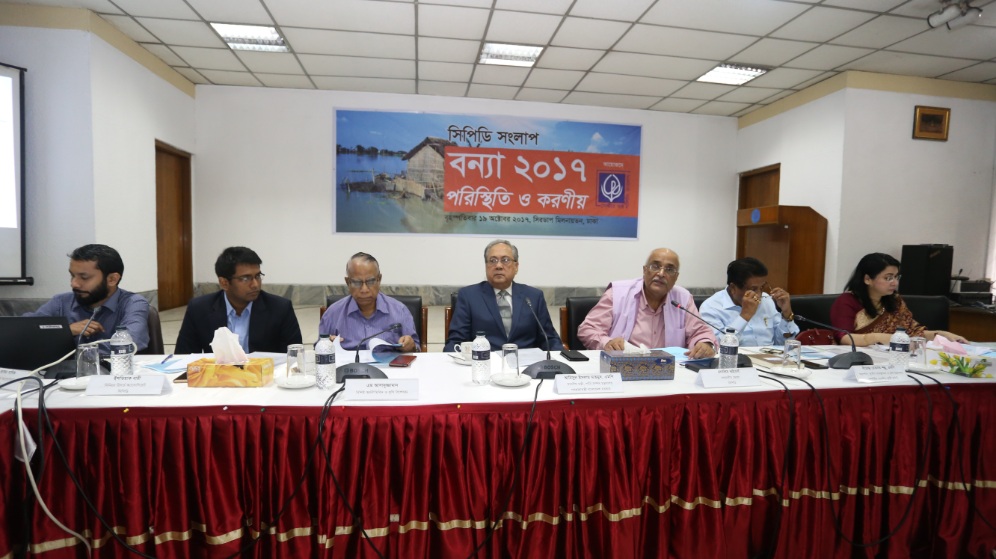 There is a need to adopt new and sustainable approaches in view of climate change to tackle the floods, and incorporate them into long-term policies to mitigate the damages in future. In addition, necessary measures should be taken to ensure effective inter-ministerial coordination in this regard. These observations emerged from the dialogue on Flood 2017: Current Situation and Necessary Actions organised by the Centre for Policy Dialogue (CPD) in the capital's CIRDAP auditorium on 19 October 2017. The dialogue was initiated based on the findings of the study titled Flood 2017: Assessing Damage and Post-flood Management.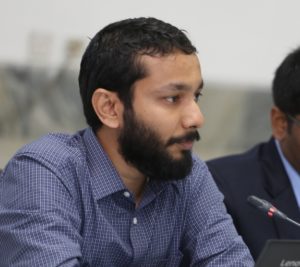 Barrister Anisul Islam Mahmud, Water Resources Minister, and Dhirendra Devnath Shambhu MP, Chair of the Parliamentary Standing Committee for Disaster Management and Relief attended the dialogue as the Chief Guest and the Special Guest respectively. The dialogue was presided over by Dr Debapriya Bhattacharya, Distinguished Fellow, CPD. Senior Research Associates of CPD – Md Zafar Sadique and Estiaque Bari – presented the findings of the study at the dialogue that has been carried out to estimate the damage caused by two successive floods in Bangladesh in this year. While conducting the study, CPD researchers visited seven hard-hit districts and analysed data from 32 affected districts.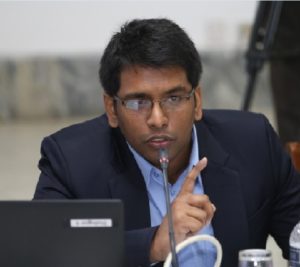 Speakers, at the event, emphasised on changing the overall perception towards flood management and adopt new approaches in terms of economy, infrastructure, administration and information management mechanisms.  Eminent economist and special discussant of the dialogue Dr M Asaduzzaman suggested to give equal importance on building, operating and maintaining infrastructures in a move to enhance the overall resilience of the economy. Noted water resource and climate change specialist and special discussant of the event Dr Ainun Nishat stressed on the need to ensure wider public participation in the flood management system. Simultaneously, water justice and governance must be ensured to tackle the floods.
Farmer Mia Hossain, a flood victim from Sunamganj, alleged that the relief materials provided by the authorities, were inadequate. He urged the government to provide more seeds to the farmers for replantation.
In his address, Minister Anisul Islam Mahmud thanked CPD for initiating the dialogue and acknowledged the capacity constraint of the government in tackling floods. The Minister said, flooding is a recurrent phenomenon in a riverine country like Bangladesh. However, long-term plans and policies need to be formulated, as the changing climate demands new approaches to flood risk. Besides, infrastructure network and embankment patterns have to be redesigned to control floods, he suggested. Dhirendra Devnath Shambhu MP emphasised on strengthening regional cooperation among the Himalayan states and Bangladesh to tackle the natural disasters.
CPD's Executive Director Dr Fahmida Khatun, Distinguished Fellow Professor Mustafizur Rahman, Research Director Dr Khondaker Golam Moazzem, Dialogue & Communication Director Anisatul Fatema Yousuf were present among others at the dialogue. The event was widely attended by high-level government officials, academics and non-government organisation (NGO) representatives.