Published in The Daily Sun on Thursday, 5 May 2016
Remittance falls for fourth month
Monirul Alam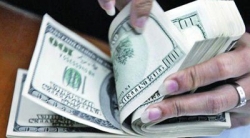 Bangladesh's inward remittance dropped sharply in the last four months (January-April) in a row compared to the same period last year, Bangladesh Bank (BB) data shows.
The fall in remittance inflow has been calculated at $355 million, nearly $90 million each month, according to data released by the central bank on Wednesday.
The country received remittance worth $4768.1 million in the last four months, which was $5068.65 million during the same period in 2015.
Talking with daily sun, Senior Research Fellow of Centre for Policy Dialogue (CPD) Towfiqul Islam Khan said a number of factors are affecting the remittance inflow.

Unrest in the Middle East, oil price fall, low wages due to migration through informal channels are among the factors affecting the remittance inflow, he noted.

"Fall in oil price in the Middle East is the number one reason… because the Middle East is the largest labour market for Bangladesh," Khan said.

He said impacts of the migrant crisis in the Middle East, especially in Iraq, Syria and Libya has been intensified due to the war and unrest in this those countries, affecting Bangladesh's remittance."The number of Bangladeshi migrant workers has increased in recent months after Saudi Arabia opened fresh recruitment, but the affect on remittance inflow is yet to become visible. It will take some time," he said.
Expatriate Welfare Ministry's data shows that Iraq, Syria and Libya shared a significant number of workers from Bangladesh before the countries plunged into unrest due to widespread violence perpetrated by the ISIS following the fall of Gaddafi regime in Libya.
Bangladeshi migrant workers in the war-torn countries later dispersed to neighboring countries and, even in Europe, in quest of safety and better jobs.
Their income became uncertain amid violence and spread of militant activities in some of the migrant-prone countries. Meanwhile, the Saudi authority also limited the scope of recruitment from Bangladesh, which was later resumed after diplomatic negotiations.
Malaysia suddenly closed recruitment of workers from Bangladeshis, which had deepened the crisis.
In the last 10 months, from July 2015 to April 2016, the country received $12255.29 million in remittance. The amount was $12501.8 million during the same period a year ago.
Bangladesh's remittance inflow stood at $15316.91 million in FY 2014-15, $14228.31 million in FY 2013-14 and $14461.14 million in FY 2012-13.
Remitters have sent home $1197.40 million this April, down from $1297.49 million in the same month last year.