A work-in-progress research by Ms Tulsi Byrne, Visiting Associate, CPD, stressed the need for progressive realisation approach and the violations approach for continual improvement in implementation of right to work in ready made garments (RMG).
The research, undertaken as part of the YSSS Programme of CPD, questioned the effectiveness of international advocacy programme in realisation of Economic, Social and Cultural (ESC) rights. Ms Byrne shared part of her research with CPD researchers on Saturday, 17 January 2014.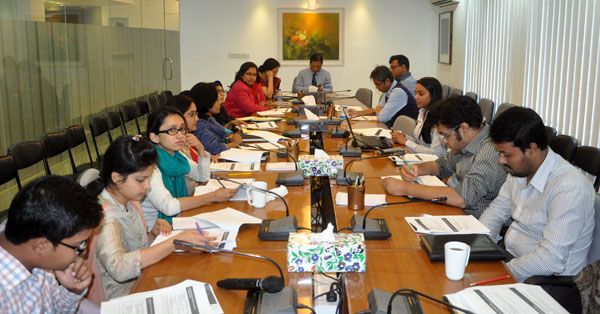 The study looked into Bangladesh's obligation to right to work under international covenants and its implementation through domestic law. The preliminary research found that Bangladesh has made progress in creating employment, enacting of a modern labour law and adopting framework for monitoring workplace environment. However, the sustainability of these initiatives remained doubtful as these initiative were taken in post-Rana Plaza period and international initiatives like Alliance and Accord would end in few years.
The study highlighted that while the rights activists proactively draw international attention to violations, the trade sector concerned over the negative image created through these campaigns. The preliminary study also found that there has been 75% increase in wages in post-Rana Plaza period and raises concern over other impacts on economy e.g. increased inflation, housing and food price etc. The study also pointed that the increase in wage is limited to RMG sector only and other labour sectors are still under-paid.
The primary study underscored that there has been pressure to form and register trade unions but allegation is made against the union leaders of not being actual representatives of the workers. There has been pressure for relocation of factories as well and the study forwards the questions that who will pay the cost.
The study mentioned that integration of sub-contracting and SME factories may lead to unemployment as more than 60% of factories fall into SME categories. The primary study advised investigation of the ability of RMG industry in absorbing the 'could-be-unemployed' labours of SME factories.
The international advocay in the post-Rana Plaza period is limited to what Bangladesh should do but the capitalist system needs some changes in itself, commented Ms Byrne. The study also highlighted that all the stakeholders are unanimous on the need for boosting RMG sector for economic development of Bangladesh but political instability poses a serious threat to that growth.