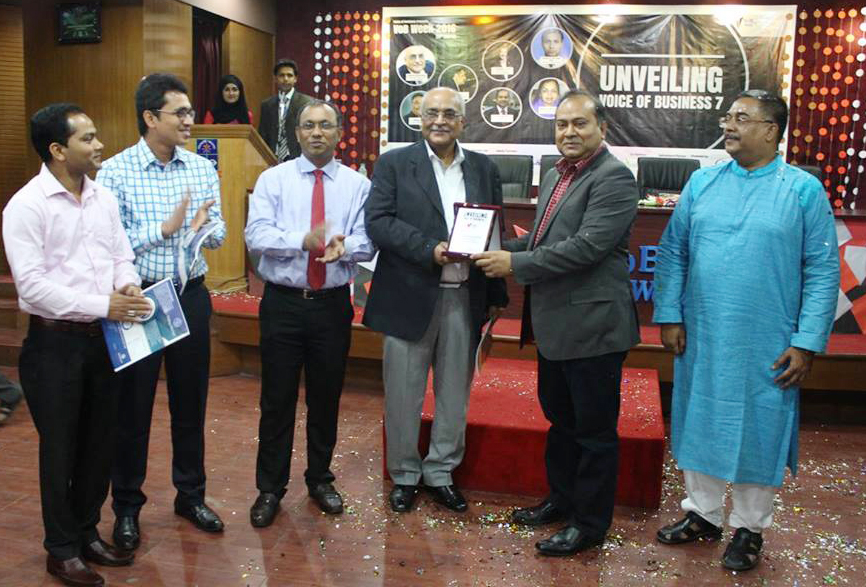 Dr Debapriya Bhattacharya, Distinguished Fellow at the Centre for Policy Dialogue (CPD), was the chief guest at the unveiling ceremony of the 7th Issue of the Voice of Business Magazine Series on 28 March 2016. The ceremony took place at the Conference Hall of the Faculty of Business, University of Dhaka.
Voice of Business (VOB), founded in the year of 2007, is the first ever and only student -run publication on business in Bangladesh. It is published collectively by students from eight departments of the Faculty of Business Studies, University of Dhaka.
An interview of Dr Debapriya with the VoB team has been featured in the 7th issue of this business magazine.
In his speech, Dr Debapriya highlighted the achievements of Bangladesh and mentioned that the society still suffers from marginalisation and deprivation. Even within the business sector, the small and medium enterprises hardly get an opportunity to express their concerns and interests. He called upon the students of the Dhaka University, who are beneficiaries of highly subsidised public education, to lend their voice to these marginalised sections of the economy.
The ceremony was also addressed by Professor Dr Kamal Uddin, Treasurer, University of Dhaka; Professor Shibly Rubayat Ul Islam, Dean of Faculty of Business Studies, University of Dhaka; and Mr Ishtiaq Ahmed, CEO of Omera Petroleum Limited.