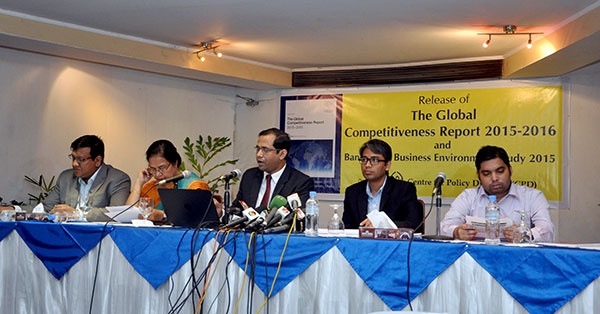 Bangladesh needs long-term investment and reform policies for financial sectors, governance and education with substantial human resource development as envisaged in the 7th Five-Year Plan in order to push the country beyond its plateauing competitiveness rankings.
The observation emerged at a media briefing held at Brac Centre Inn, Dhaka on Wednesday, 30 September 2015, coinciding with the global release of the Global Competitiveness Report (GCR) 2015-16 which ranked Bangladesh 107th among 140 economies in terms of global business competitiveness.
While presenting the keynote, CPD Additional Research Director Dr Khondaker Golam Moazzem observed that the suggested reforms would add momentum to Bangladesh's slow pace of development as seen in the competiveness index for the last few years.
Joining the media briefing over skype from abroad, CPD Executive Director Professor Mustafizur Rahman observed that Bangladesh would need further infrastructural development, reforms and enabling environment in public administration to graduate into an upper middle-income country from its current lower-middle income status.
On behalf of CPD, Dr Moazzem presented major findings from the GCR, Bangladesh's Business Environment in 2015 and Rapid Perception Survey 2015 carried out on current issues of Bangladesh economy. Switzerland, Singapore, United States, Germany, Netherlands, Japan, Hong Kong, Finland, Sweden and UK are the top ten business-competitive countries this year.
Moving two notches upward from the 109th position in 2014, this year Bangladesh's positive developments were characterised by improving macroeconomic stability, infrastructure, market size, labour market efficiency and innovation.
However, Bangladesh experienced negative changes in the areas of institutions, financial market sophistication, goods market efficiency, health and primary education, technological readiness and business sophistication.
According to an analysis of Bangladesh's Business Environment in 2015, most Bangladeshi entrepreneurs have identified energy price shock, underdeveloped infrastructure and weak governance as the foremost risks for doing business in Bangladesh within the next 10 years.
The report indicated that businesses in Bangladesh are increasingly being concerned about efficiency related problems.
Both public and private sectors were called upon with respect to developing ICT-based domestic technological capacity and increasing environmental compliance, a major factor for competitiveness in the global market.
Findings from the Rapid Assessment Survey (RAS) among entrepreneurs indicated that export, import and sales were badly affected due to recent political violence in Bangladesh, alongside persisting corruption and lack of congenial business atmosphere.
RAS respondents have indicated political unrest, insecurity and corruption alongside black money, tax evasion, lack of investment opportunity as the major causes behind capital flight from Bangladesh.
Almost half of the respondents favoured the Bangladesh-China-India-Myanmar (BCIM) Economic Corridor as the most beneficial connectivity initiative for Bangladesh in comparison with SAARC Multimodal Connectivity and BIMSTEC (Transport and Communication Sector).
CPD has been partnering with the World Economic Forum (popularly known as Davos Forum) since 2001 in preparing the GCR.
The media briefing was followed by a Q&A session with journalists in presence of Ms Anisatul Fatema Yousuf, Director, Dialogue and Communication, Mr Towfiqul Islam Khan, Research Fellow, Mr Kishore Kumer Basar, Senior Research Associate and Mr Ariful Islam, Research Associate, CPD.
News on Media
Error type: "Forbidden". Error message: "The request is not properly authorized to retrieve the specified playlist." Domain: "youtube.playlistItem". Reason: "playlistItemsNotAccessible". Location type: "parameter". Location: "playlistId".
Did you added your own Google API key? Look at the
help
.
Check in YouTube if the id
PLlQrg2sIO-Ew3mCsq_RGqhFkFqgv7ef8u
belongs to a playlist. Check the
FAQ
of the plugin or send error messages to
support
.