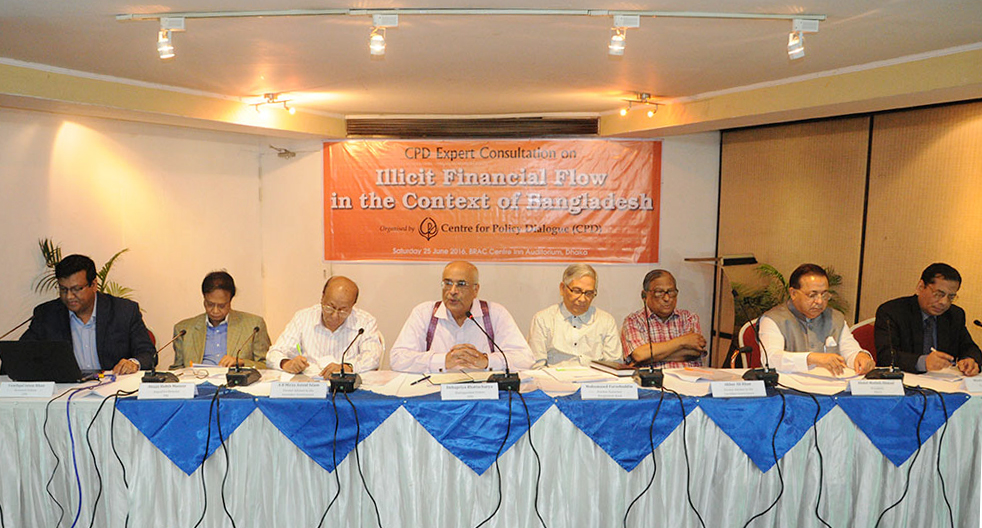 Ensuring good governance and necessary regulatory reforms necessary to combat the increasing illicit financial flows from Bangladesh. Establishing an independent institute with adequate regulatory capacity is critical to win this combat against siphoning out money from the country.

These observations emerged at the CPD expert consultation titled Illicit Financial Flows in the Context of Bangladesh at BRAC Centre Inn Auditorium, Dhaka on 25 June 2016. The event was organised as part of CPD's flagship programme Independent Review of Bangladesh's Development (IRBD).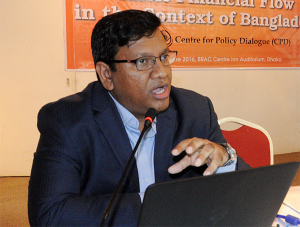 While presenting the keynote on the topic, CPD Research Fellow Mr Towfiqul Islam Khan mentioned four categories of illicit financial flows from Bangladesh- market abuse, tax abuse, corruption or abuse of power and proceeds of crime. He mentioned that on average, nearly US$ 5,888 million was siphoned out from Bangladesh annually during 2004-2013, where the amount in FY2013 was 3.6 times of Education budget and 8.2 times of Health budget.

According to Mr Khan's recommendations, the government should concentrate on ensuring capacity enhancement, cooperation and coordination among government agencies to address the issue. He emphasised on the dynamics of political economy- transparency, awareness and political will to ensure the ground to deal with the illicit financial outflow.
Chaired by CPD Distinguished Fellow Dr Debapriya Bhattacharya the dialogue was participated by Dr Mohammed Farashuddin, Former Governor, Bangladesh Bank; Dr Akbar Ali Khan, Former Advisor to the Caretaker Government; and Dr A B Mirza Azizul Islam, Former Advisor to the Caretaker Government, Ministries of Finance and Planning as Special Guests. Mr Abdul Matlub Ahmad, President, FBCCI and Dr Ahsan Habib Mansur, Executive Director, Policy Research Institute of Bangladesh offered their comments as Distinguished Discussants.
The floor discussion was also attended by policy makers, bureaucrats, bankers, economists, diplomats, development practitioners among others.