Findings of a CPD field study showed inconsistency with the Bangladesh Garment Manufactures and Exporters Association's (BGMEA) claim that 176 RMG factories were shut down due to recent reforms in the sector.
Government's minimum wage policy and other compliance-related issues such as inspections by Accord, Alliance and BUET were only partly responsible for the closure of these factories, found the survey "Shut-Down Rule vs Closure: Which One is relevant for closed Garment Factories of Bangladesh."
The CPD YSSS programme provides young researchers an opportunity to present their work in progress, on which other CPD researchers provide observations and comments as regards methodology, study approach, data and information, quality of analysis and soundness of findings in order to improve young researchers' research quality and presentation skills.
Ms Kashfi Rayan carried out the study under the supervision of CPD Additional Director Dr Khondaker Golam Moazzem. Drawing on the backdrop, she mentioned that the association of RMG entrepreneurs (BGMEA) recently published a list of 176 factories (the latest list included 238 factories), claiming that recent reform measures have resulted in the shut-down of these apparel units and asked the government for a comprehensive exit plan for the non-compliant units.
In this context CPD conducted a field study on 159 closed factories enlisted by BGMEA which investigated the facts behind 'closure' of the apparel units. The study also examined whether there was a link between the 'closure' and recent inspection for buyer's stringent stand on putting orders to certain types of factories.
The study found that most factories that the survey could cover (about 90% from the BGMEA list) were already shut down before 2013. Only 19 factories were found to be shut down in 2013 and 2014.Moreover, findings showed that most of the closed factories were established after 2001, operated in shared premises and were small or medium manufacturers.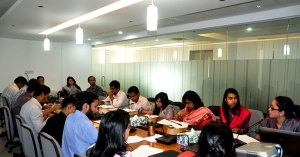 It appeared that the 'closed factories' were already operating before a threshold point for shut down because of lack of entrepreneurial skills, lack of maintaining a good relationship with the foreign buyers and lack of understanding of the RMG market.
The findings could not establish any 'strong' relationship between the recent inspections in the RMG factories regarding compliance and the closure of the surveyed factories, noted Ms Rayan, adding that most of them were already closed before even Rana Plaza tragedy occurred. It was noted that a number of new factories were established in the RMG sector which indicated potentials for growth of new RMG units.
In recommendation, the government was advised to look into the matter of closed apparel units only after gathering rigorous information behind their 'closure'.