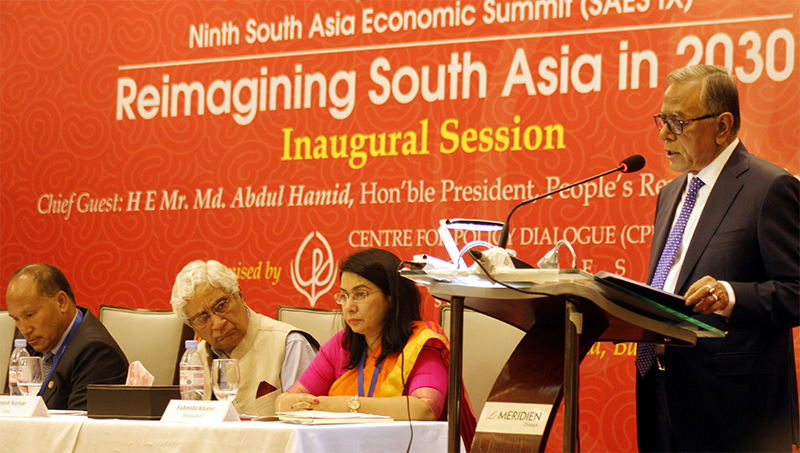 H E Mr. Md. Abdul Hamid, Hon'ble President of the People's Republic of Bangladesh emphasised on establishing steady and effective ties among the South Asian nations. He recommended for utilising unexplored potentials by strengthening regional economic cooperation towards transforming the South Asia into a dynamic region in the world. Hon'ble President delivered such recommendations while inaugurating the Ninth South Asia Economic Summit (SAES IX), as the Chief Guest, organised by the Centre for Policy Dialogue (CPD) at Hotel Le Méridien Dhaka, Bangladesh on 15 October 2016.
CPD Executive Director Professor Mustafizur Rahman began the session with his welcome remarks. Chaired by Founding Chairman of CPD Professor Rehman Sobhan, the session was addressed by the Distinguished Guests from the South Asian Countries- Emeritus Professor Deepak Nayyar, Chair, South Asia Centre for Policy Studies (SACEPS), India; Mr Rana Muhammad Afzal Khan, Member, National Assembly of Pakistan and Parliamentary Secretary, Ministry of Finance, Government of Pakistan; Mr Romi Gauchan Thakali, Minister for Commerce, Government of Nepal; Dr Sarath Amunugama, Minister for Special Assignments, Government of Sri Lanka. Dr Gowher Rizvi, International Affairs Adviser to the Hon'ble Prime Minister of Bangladesh addressed the session as Special Guest. CPD Research Director and Convenor of SAES IX Preparatory Committee Dr Fahmida Khatun extended the vote of thanks.
The two-day Summit, held during 15-16 October 2016, was co-organised by the Institute of Policy Studies of Sri Lanka (IPS); Research and Information System for Developing Countries (RIS), India; South Asia Watch on Trade, Economics and Environment (SAWTEE), Nepal; and Sustainable Development Policy Institute (SDPI), Pakistan.
View more news reports on the  Inaugural Session