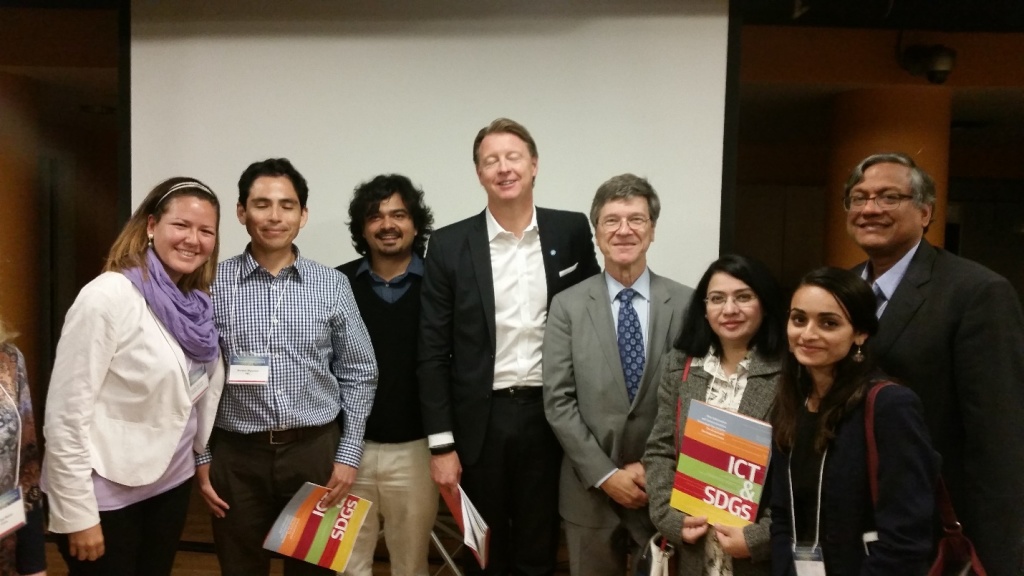 The 'ICT and SDGs' report, an outcome of joint research between the Earth Institute, Columbia University and Ericsson was published in New York on 23 September 2015, ahead of the United Nations SDG Summit. The report highlights ICT's role in accelerating achievement of the United Nations Sustainable Development Goals by 2030.
Under the leadership of the Director of the Earth Institute, Professor Jeffrey D. Sachs, the report was authored by a research team that includes Dr Fahmida Khatun, Research Director, Centre for Policy Dialogue (CPD) (who was pursuing Fulbright Fellwoship at the Earth Institute during February-July 2015), Professor Vijay Modi and others.
This report summarises the lessons to date and the future prospects for ICT in four sectors: health, education, financial services and infrastructure, focusing on electricity power. The main insight is that ICT offers an acceleration of technology uptake in all four sectors. They do so by reducing the unit costs of service delivery; expanding the range of services that can be offered; economising on scarce resources (such as local skilled workers, who can be engaged online rather than local presence); and accelerating the institutional learning through online communities.
Recommendations of the study are:
The international ICT sector, represented for example in the UN Broadband Commission, would need to step forward to provide, advice, expertise, financing, and tools for rapid scale up.
The universities, in partnership with governments and businesses, would have to undertake massive training programs, and hosting of new ICT business incubators.
Global donors would have to provide quick seed funding to get these activities underway.