Published in The Daily Star on Sunday, 15 May 2016
Economists recommend privatising state banks
MCCI and Maasranga TV organise discussion on budget expectations
Star Business Report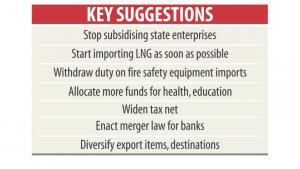 Two economists have called for the government to immediately privatise state banks except Sonali and take drastic measures against public enterprises to stop them from bleeding the economy.
"I think enough is enough. We no longer need state banks," said Mohammed Farashuddin, a former central bank governor, at a pre-budget discussion jointly organised by the Metropolitan Chamber of Commerce and Industry and Maasranga TV on Friday.
"We only need to keep Sonali Bank, which is our treasury bank. Other state banks should be left in the hands of people," he added.
Sadiq Ahmed, a member of the central bank's board of directors, wholeheartedly backed Farashuddin.
"Money is stolen from public banks and then taxpayers' money is used to save them — I think it is a disastrous policy. This should not be tolerated any more."
The government injected Tk 15,000 crore into the state-run banks to keep them functioning in the last five years and the Banking Division has requested an allocation of Tk 10,000 crore in the upcoming budget.
The government provided Tk 2,617 crore for recapitalisation of state-owned commercial banks in fiscal 2014-15, according to the World Bank's latest Bangladesh Development Update.
Ahmed called for turning the state banks into narrow banks, if they are not privatised. Narrow banks can only take deposits; they cannot lend.
"If you can take away the lending decision, there will not be any scope for misuse and abuse."
On the proposal for privatising state banks, except Sonali, Finance Minister AMA Muhith said: "It's a good suggestion. We're already thinking about it, but we haven't taken any step in true sense. This proposal, however, encourages me to take it forward."
Public enterprises should be given hard budget constraints, said Ahmed, who is also the vice-chairman of the Policy Research Institute of Bangladesh, a think-tank.
"Public enterprises should not get any subsidy from the budget. Period," he added.
The subsidies for 47 state-run enterprises are about Tk 5,000 crore a year, according to reports aired by Maasranga TV during the discussion.
"There is no logic for providing these subsidies. These national enterprises should be privatised," said Anis Ud Dowla, a former president of the MCCI. Quoting studies of US-based Boston Consulting Group, Farashuddin said 12.5 million people have annual incomes of $5,000. However, only 12 lakh people are paying taxes.
"The tax rate is going up for taxpayers, but the tax net is not being widened. Is it because of the failure of bureaucracy? Or is there any lack of political will? There is no alternative to widening the tax net."
At 10-11 percent, the tax to gross domestic product ratio in Bangladesh is the lowest in Asia.
"It is 17 percent in Nepal. We have to get rid of this shame. If we can't realise tax how will we invest?" the former central bank governor added.
Ahmed said the planned VAT law should be simplified, uniform and not be a tool for harassment. He however said there is no scope for debating the VAT rate.
Income taxation, which is related to income inequality, must be addressed with a lot of priority, he said. "I don't know why the government is not putting priority on that."
Personal income tax is just 1 percent of GDP even though the Household Income and Expenditure Survey of the Bangladesh Bureau of Statistics says 35 percent of the income is with the 10 percent of the population.
"If this 10 percent pays the effective tax rate then personal income should be 3.5 percent of GDP. But we are not getting that. It means there are lots of loopholes and exemptions," he added.
Wahiduddin Mahmud, a leading economist and former caretaker government adviser, said the drastic fall in prices of imported commodities and items has brought in huge scope for the country to mobilise funds for budget implementation.
Subsequently, he called for bigger budgetary allocations for the health and education sectors, as they have remained low over the years.
Anis A Khan, chairman of the Association of Bankers Bangladesh, said there should be a merger law for all banks.
If the number of private banks can be brought down the capacity of banks will expand, he said.
"We need capital as the country is growing. Banks will have to lend large loans to industries. We need more capital to build the capacity."
Besides, the corporate taxes on banks should be cut to some extent, said Khan, also the managing director of Mutual Trust Bank.
Siddiqur Rahman, president of Bangladesh Garment Manufacturers and Exporters Association, called for duty and VAT-free imports of fire safety equipment for all sectors as Bangladesh is prone to earthquakes.
, executive director of the Centre for Policy Dialogue, said the country would have to go for diversification of export products as well markets.

There is an opportunity for Bangladesh to diversify products within the garment sector. "We have to give attention to it as we have already proved our comparative advantage in this area."

Rahman said incentives for both backward and forward linkage industries have to be increased so that retention of value addition is higher for the domestic sectors.

He said the government is taking advance income tax on garment exports but is not carrying out the final settlement. "I think as a result, a huge amount of money is going out of the country through trade mispricing," he added.
Dowla also touched upon the issue of gas supply; the government has said the industries would get adequate gas supply after two years.
"But what will we do in these two years as demand is increasing. What will happen to our investment? I think it is possible for the government to increase the supply before that by importing LNG," he added.
In response, Muhith said it would not be possible to import gas within two years, as readying the port for liquefied natural gas and signing agreements, among other tasks, will take as much time.
"I don't see any way of helping you in this area, honestly."
The finance minister also said the government has not progressed much in decentralisation.
"We have not been able to do it. This issue is important to me. This time I will make efforts to give decentralisation some visibility."
On the VAT law, the minister said if businesses keep accounting of how much value they are adding at each stage of the production the VAT will be a very small amount.
For example, if a production has five stages none will probably pay VAT more than 5 percent.
He admitted that the introduction of the new VAT act poses a major challenge for him.
"I don't think I will put forward a resolution that all of you will like. But I will have to find some solutions."
Mirza Azizul Islam, a former finance adviser, and Syed Nasim Manzur, president of the MCCI, also spoke. Nihad Kabir, a member of the MCCI's committee of office bearers, moderated the programme.