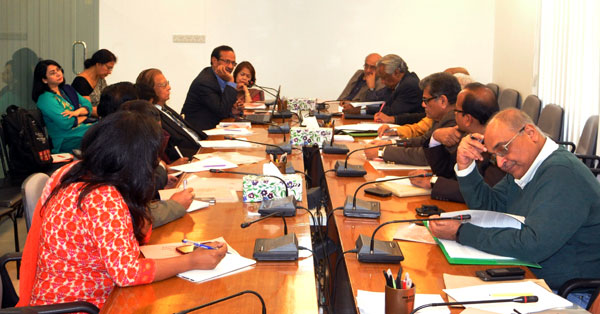 Indian Prime Minister Narendra Modi's leadership and influence of media strongly contributed to the triumph of Bharatiya Janata Party (BJP) over others in the 16th India Lok Sabha Elections, according to an Indian researcher.
Rising dissatisfaction with preceding government United Progressive Alliance (UPA) and general displeasure over issues like corruption and price hike of essential commodities were also defeating factors for the UPA but gains for the BJP, noted Professor Sanjay Kumar, Director of Centre for the Study of Developing Society (CSDS) in India.
Professor Kumar was addressing the CPD in-house seminar on "Election with a Difference: Analysing the Verdict of Indian Elections in 2014" at the CPD Dialogue Room on Thursday, 11 December 2014. An expert on survey research, Professor Kumar has been involved in Indian election studies 1998, 1999, 2004, 2009 and 2014 and has published several books on Indian elections.
Professor Rounaq Jahan, Distinguished Fellow, CPD moderated the discussion chaired by Professor Rehman Sobhan, CPD.
In his presentation, Professor Kumar identified that the turnout in Lok Sabha election reached an all-time high in 2014 and BJP was the first Non-Congress party to get a majority ever. It was also the first single party majority government in 30 years while all previous governments during last 30 years were coalition of various parties. BJP also registered highest ever vote share increase for a national party between two elections and had high average victory margins for the BJP.
Drawing on survey research results from the Election Commission of India and findings of the post poll survey conducted by the CSDS, Professor Kumar showed that Prime Minister Modi's popularity kept rising while public dissatisfaction against the UPA government was building up.
On finding the cause of landslide victory, the research found that major voting blocs such as the Upper Castes, Other Backward Classes, Dalits and Tribals except the Muslims preferred BJP over the Congress whilst an additional support was mobilised from the Young Voters, of which most voted for the first time.
The research on the nature of BJP's election campaign also revealed that Prime Minister Modi's aggressive campaigning about state development was a catalyst to changing public perception. More presence in the media also translated into mobilising more voters in favour of the party.
The presentation was followed by a Q&A session with distinguished academics, columnists, politicians and CPD researchers.