Published in The Financial Express on Monday, 7 March 2016
'BD fails to explore export potentials in Latin America'
FE Report
Despite having immense trade and business potentials in most of Latin American countries, Bangladesh fails to explore the opportunities mainly due to lack of information and long distance, speakers said at a seminar on Sunday. At the seminar titled "Bangladesh's Relations with Latin American Countries: Unlocking Potentials", they also stressed the need for disseminating more information and increasing interaction with the sub-regional countries through cultural cooperation. Despite having huge potentials, Bangladesh's export to Latin American countries stands at around US$ 450 million, only 1.5 per cent of the country's total exports. But the country's import from the region stands at US$ 1.5 billion, only 3.5 per cent of its total imports. State Minister for Foreign Affairs M Shahriar Alam, who inaugurated the daylong seminar, identified Latin America as a prospective region for Bangladesh's export, saying that it is high time for Bangladesh to go beyond the traditional export markets and look for the same in other countries. He pointed out that economic and trade relations between Bangladesh and the Latin American countries are showing promising signs and export of ready-made garments (RMG) to Latin American countries has shown a healthy growth in last few years. Shahriar hoped Latin American entrepreneurs will find Bangladesh's market suitable for some of their exportable items. "We are eyeing the large Latin American market for our pharmaceuticals, leathers, ceramic wares, plastic and melamine goods, information technology (IT) products and services, jute products and handicrafts, agricultural products and services including farm management and cooperatives," said the minister. He also urged the Latin American entrepreneurs to invest in the country's infrastructure, energy, information and communications technology, automobile and other manufacturing sectors.Centre for Policy Dialogue (CPD) Executive Director Prof Mustafizur Rahman, who attended the programme as a panel discussant, urged them to invest in Bangladesh which offers a new window of opportunity for investors. "The government is setting up a total of 100 special economic zones in different parts of the country and offered a range of incentives for foreign investors," he said and urged them to set up industries in Bangladesh and export goods to the world market with zero tariff facilities as Bangladesh still enjoys the least developed country (LDC) facilities. Diplomats from nine Latin American countries, who attended the programme, praised the government's efforts to keep the economy on a stable path with six plus percent economic growth and highlighted the urgency for increasing the level of interactions between Bangladesh and the Latin American countries. "Economic development between the countries depends on relations among the people of the countries," said Venezuelan ambassador designate to Bangladesh Augusto Montiel, stressing the need for people-to-people contact as well as government and institutional level. Colombian ambassador to Bangladesh Monica Lanzetta Mutis suggested keeping close contact with the 'Pacific Alliance', a Latin American trade bloc, for further integration with the countries of the region. "Bangladesh's export will increase substantially and be able to participate in global chain through the alliance," said the ambassador. Bangladesh Institute of International and Strategic Studies (BIISS) organised the seminar at its auditorium aiming to identify new areas of cooperation between the countries of Latin America and Bangladesh. Besides diplomats from Latin American counties, a good number of foreign officials, academics, former bureaucrats, researchers and representatives from international organisations attended the programme.   Split in four sessions, the seminar was addressed, among others, by foreign secretary Shahidul Haque, BIISS Board of Governors' Chairman Ambassador Munshi Faiz Ahmad, BIISS Director General (DG) AKM Abdur Rahman, Brac University vice-chancellor Dr Syed Saad Andaleeb, Dominican non-resident ambassador Frank Hans Dannenberg Castellanos, Non-resident Ecuador ambassador to Bangladesh Mentor Villagomez, Mexican ambassador Melba Pria, DU teacher Dr Syed Manzoorul Islam, Bangla Academy DG Prof Shamsuzzaman Khan and Bangladesh Knitwear Manufacturers and Exporters Association (BKMEA) former Vice President Mohammad Hatem. The state minister pointed out that Bangladesh's relationship with Latin America is not only centred around issues and matters of bilateral interests and benefits but also about seizing the growing opportunities for cooperation and collaboration on issues of contemporary global importance and development. Bangladesh, as the current Chair of the Global Forum on Migration and Development (GFMD), will host the Ninth GFMD Summit in December 2016. "Wider participation from Latin American civil society and governments will add momentum and value to our endeavours to achieve the common goals," said Shahriar Alam. mzrbd@yahoo.com
---
Published in BSS on Monday, 7 March 2016
Information exchange vital for strengthening ties with Latin America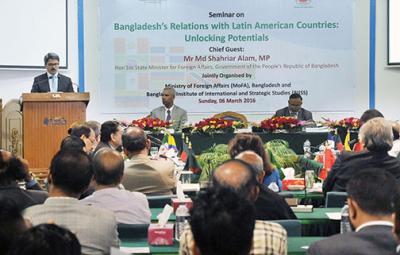 DHAKA, Mar 6, 2016 (BSS) – Envoys of Latin American countries to Bangladesh today stressed on exchange of information and increasing people-to-people contact between Bangladesh and Latin American states to unlock potentials of economic development of the two regions.
"Economic development depends on exchange of information and people-to-people contact between the two regions that have cultural commonalities and long history of struggle," said Non Resident Ambassador of Venezuela to Bangladesh Augusto Montiel at a seminar here.
Ministry of Foreign Affairs and Bangladesh Institute of International and Strategic Studies (BIIS) jointly organised the seminar titled "Bangladesh's Relations with Latin American Countries: Unlocking Potentials".
State Minister for Foreign Affairs Mohammad Shahriar Alam opened the day-long seminar as the chief guest at BIISS auditorium. Director General of BIISS Major General A K M Abdur Rahman made introductory remarks in the opening session with Chairman of BIISS Ambassador Munshi Faiz Ahmad in the chair.
Speaking at the seminar, the Venezuelan envoy pleaded for further increasing trade relations of Bangladesh with the Latin American countries by arranging trade fair and other discourses on a regular basis.
Through organizing such fairs, he said Bangladesh can enter into the huge Latin American markets with its world class ready-made garments, pharmaceutical, plastic, textile, jute and other products.
State Minister for Foreign Affairs Shahriar Alam reaffirmed Bangladesh's commitments for strong, lasting relationship based on mutual respect and mutual interests with the Latin American countries.
He said Bangladesh would like to explore new areas of cooperation with all the countries of the region as it is eyeing the large Latin American market for its pharmaceuticals, leathers, ceramic wares, plastic, IT, jute, handicrafts and agricultural products.
"We can work together for easy market access by addressing the tariff structure and also non-tariff barriers as well as achieving preferential trading arrangements (PTAs) on mutually beneficial terms," he said.
Shahriar said that as the members of Climate Vulnerable Forum (CVF), Bangladesh and Latin American countries could advocate for resolute and urgent actions on key climate change and migration issues.
"Bangladesh views Latin America not just as a market for its exports, but a valued partner with whom its people could share its culture … greater people-to-people contact would eventually lead to greater business and economic opportunities between us," he added.
Executive Director of Centre for Policy Dialogue (CPD) Mustafizur Rahman said that increasing collaboration of Latin American collaboration with Bangladesh's business sector and other institutions is a must for economic development of two regions with win-win situation.
He advocated for providing "zero tariff" facility for Bangladeshi products to those countries for further enhancing trade ties between the two regions.
Non-Residents Ambassadors of different Latin American and Caribbean countries to Bangladesh based in New Delhi also spoke on the occasion.
They are- Forbes July (Guyana), Jose J. G. Betancourt R (Peru), Ms. Monica Manzetta Mutis (Colombia), Oscar Martinez Cordoves (Cuba), Mentor Villagomez (Ecuador), Carlos E. Orlando Bonet (Uruguay), Ms. Melba Pria (Mexico), Andres Barbe Gonzalez (Chile), Raul Ignacio Guastavino (Argentina), Frank Hans Donnenberg Castellanos (Dominican Republic) and Mrs. Wanja Campos Da Nabrega (Brazil).
Besides, Foreign Secretary M. Shahidul Haque, Prof. Syed Manzoorul Islam of Dhaka University, Bangla Academy Director General Prof. Shamsuzzaman Khan, Prof. Syed Sadd Andaleeb of BRAC University and former Vice-President of BKMEA Mohammad Hatem, among others, took part in panel discussions.
Policy makers, former diplomats, senior government officials, academics, researchers and business personalities attended the seminar.
---