Published in The Daily Star on Monday, 29 June 15.
MACRO MIRROR
Investing in human capital
Dr Fahmida Khatun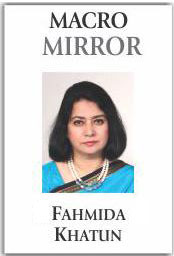 The labour market of Bangladesh is paradoxical in many ways. When you talk to private sector organisations, they will tell you how badly they need capable managers to run their companies. When you ask private universities or research organisations, you will learn how frustrated they are as they cannot recruit and retain talented graduates as well as mid-level professionals.
Dearth of human capital is a huge problem in this populous country. Of course, the job market is very competitive and getting a job is difficult for a university graduate. But the competition has reached a low level equilibrium. A low quality graduate is competing with a worse quality graduate. One can only get frustrated to see the depth of knowledge on the subject they studied, their analytical ability, proficiency of language, particularly English and general awareness about day-to-day affairs, of the candidates in an interview board.
The search for a mid-level manager or researcher is even tougher. The better ones of the lot are already settled. Poaching of human resources from another company is a common practice worldwide. But in a setting like ours, where the supply of skilled resources is far below the critical minimum, the void of a skilled worker is not easy to fill.
Our educational institutions are not producing human resources which can match the need of the job market. The quality of education starts eroding from the primary and secondary levels. Every year, the number of students obtaining golden GPA has been increasing overwhelmingly. But what do they do with these grades afterwards? Getting into a public university is beyond the intellectual ability of most of these students. So those who can afford to pay for private university education would go for it to chase their dreams.
Only a handful of them get to reach their goals. With due respect to some of the very talented and dedicated teachers, I can tell from firsthand experience that many are simply not cut out for teaching. In my organisation, we often cannot recruit a researcher with good grades from private universities due to very poor understanding of economics and low presentation skills. A few days or months later, the same applicant would call or come to seek blessings before joining the faculty of a private university. This is a vicious cycle. Low quality teachers produce poor quality human resource. When these products compete with each other in the job market, the standard remains low and weak. This leads to low productivity. If the current trend of quality deterioration continues, we will soon become a country full of under-qualified professionals delivering low quality services.
Thankfully, there are still a large number of bright students who are contributing to maintaining the standards of our work. However, most of them, quite naturally dream of either going abroad for higher studies or working in foreign lands. And in most cases, once they leave, there is no return. Over the years, the problem has become more acute, particularly in developing and least developed countries.
In Bangladesh, nowadays, mostly the children of big entrepreneurs return home to take over their parents' empire. This is a welcome trend as we now have a highly qualified second generation business community with new ideas. For the rest, it is not only the children but also us, the parents, who prefer their children to stay safe and secure in a faraway country, even if they get a good job here.
When people from developed countries take up jobs abroad, these countries do not face any problem as their pool of human resource is large and comes from all over the world. We are not ready to open up our job market for foreign nationals yet, as we cannot create enough jobs for our own people. But we can probably bring back some of our crème de la crème who left the country for greener pastures.
We need to think of a sustainable solution. Mobility of workforce is unstoppable in a globalised world. There is no alternative to more investment on human development. The role of human capital in economic growth is appreciated by policymakers, as is reflected in national policies. But the responsibility does not end with the allocation of a few thousand crores for education and training. Strict monitoring of quality at all levels of education has to be complemented with higher expenditures. The private sector should also come forward to invest in human resource which, in turn, will benefit them as well.
The writer is Research Director at CPD, currently a Visiting Scholar at the Earth Institute, Columbia University, New York.