Knowledge creation in Bangladesh is lagging behind. The universities in Bangladesh and the think-tanks face difficulties to acquire research funds that hampers the knowledge creation process. Strategic collaboration between these institutions is likely to improve the situation.
Dr Mathilde Maitrot, ESRC GCRF Post-Doctoral Fellow at the Global Development Institute, the University of Manchester, shared these research findings at an in-house discussion on 26 July 2017 at CPD Dialogue Room from her study titled Knowledge creation in Bangladesh: institutional challenges and personal opportunities within civil society.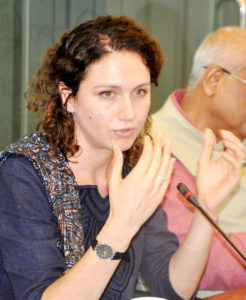 Dr Maitrot observed that there is excess research capacity available in public universities as due to lack of fund teachers are engaged only in teaching. Think-tanks, on the other hand, have donor funded research projects but due to limited analytical capacity, hire consultants. In view of this, policy research are being conducted by university teachers commissioned by think-tanks and these are being engineered through personal networks. There are, however, weaknesses at both ends. University teachers face internal political challenges for which quality of education suffers. Think-tanks also do not enjoy full autonomy in designing a study relevant in the country context. As a result both the quality of research and effectiveness of policy influencing suffer. The author suggested that opportunities need to be created for producing independent, high quality, domestically-owned knowledge that would bring policy changes.
CPD senior researchers and professionals were present at the session and shared their opinions on the presentation.