Published in Dhaka Tribune  on Saturday, 28 May 2016
Wooing investors is job 1, discussants say
Tribune Online Report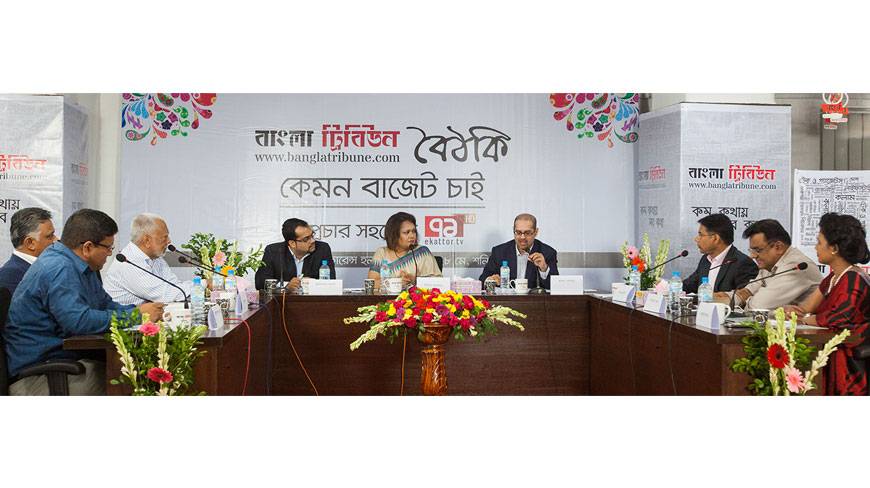 The 2016 budget must be investment frienldy in order to achieve the government's top job, creating employment, speakers at a discussion have said. The recommendations came at a pre-budget discussion hosted by Bangla Tribune at its offices in Dhaka on Saturday.
The discussion was telecast live by Ekattor TV.
Metropolitan Chamber of Commerce and Industries president Syed Nasim Manzur, Association of Grassroots Women Entrepreneurs Bangladesh president Mousumi Islam, Exporters Association of Bangladesh president Abdus Salam Murshedy, Centre for Policy Dialogue research fellow Towfiqul Islam Khan, Dhaka Tribune editor Zafar Sobhan, Bangla Tribune acting editor Zulfiqer Russell, journalist Syed Ishtiaque Reza and Dhaka University teacher Abu Ahmed took part in the discussion moderated by Mithila Farzana of Ekattor TV.
Towfiqul Islam observed that the level of private investment in the country was not healthy. The statistics on the job sector, too, were not that impressive, he said. Only 300,000 new jobs had been created between July 2013 and July 2015, he also said quoting half-yearly statistics.
Some 1.2 million jobs had been lost in the manufacturing sector, he added.
Ekattor TV director of news Syed Ishtiaque Reza noted it was not possible to create jobs without first wooing investment.
He further added that 50% of people in Bangladesh did not pay taxes. "If we brought them under the tax net, then pressure on existing taxpayers would ease."
MCCI president Nasim Manzur said: "The cost of doing business is gradually going up. Investment will not increase overnight as complexities in the business sector are rising. Only easing these complexities can attract more investment."
He rued the government's lack of action in encouraging business.
"Investment will go down if profit declines. The government should pay attention to reducing business costs and other complexities," he added.
Dhaka University professor Abu Ahmed emphasised equal opportunities for businessmen to strengthen the economy.
"Demand will increase and profit will rise if the price of goods is reduced. But those involved in the petroleum trade do not understand this. The government is adamant about not cutting fuel oil prices despite strong arguments against it," he said, calling for reduction of oil prices in line with the global market trends.
Salam Murshedy said: "Designated economic zones should come into operation according to a fixed timeline. No one knows when the zones will be ready for use. A deadline must be set for them."
On the trade gap with India, he said: "Our exports have not increased, but our imports have. There is no alternative. What I can export at $5 they can produce locally for $4: Why would they buy from me?"
Ekattor TV news director Syed Ishtiaque Reza said: "Remarkable work has been done at the Mirsarai Economic Zone. I worry about whether the fate of these economic zones will end up like the BSCIC zones. There are problems with land acquisition as well. We have seen in other instances what happens when land is forcibly taken from local residents."
Speakers at the discussion also called for more attention to the health and education sectors in the new budget.
They said the budget should emphasise alleviating discrimination in the education sector, recruiting skilled teachers and arranging proper training. Panelists also highlighted the negative effects of lower allocation for the health sector in the budget.
Abu Ahmed said: "Let us assume the budget has been increased. But that will have to done efficiently. The same can be said for the health sector. But no mechanism to ensure accountability is in place. Hence, there is no confidence about proper spending in these sectors."
Towfiqul Islam said the sectors did not get much allocation. "We are ranked 189 out of 190 nations in the health index." "The biggest problem in the education sector is the disparity between Dhaka and the other areas. The quality of teaching has to be improved alongside infrastructural development," he added.
Mousumi Islam said there needs to be more importance given to social security in the new budget, given the current situation in the country.