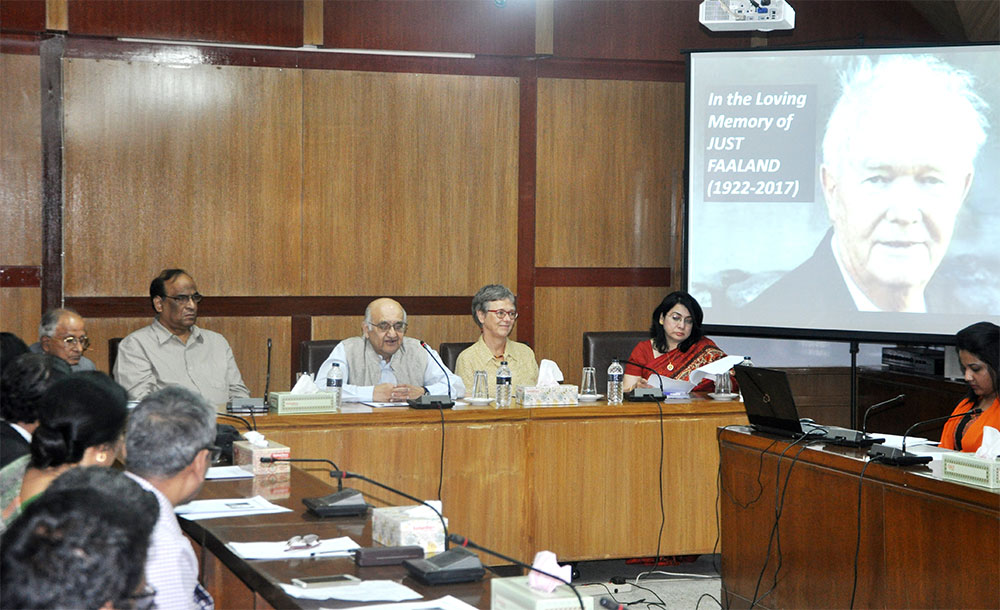 Just Faaland was not only a very good friend of the newly born Bangladesh but also was an Ambassador to the international community. After the independence of Bangladesh in 1971, the World Bank was persuaded to accept the assertion of sovereignty, even though the resource position was far from robust, largely through Just Faaland's persuasive argumentation on Bangladesh's behalf with the bank's leadership. Just Faaland was the bridge between our newly-built nation and the rest of the world.
CPD Chairman Professor Rehman Sobhan remembered Just Faaland as the Chair of the memorial meeting titled In Memory of Just Faaland organised jointly by the Centre for Policy Dialogue (CPD) and Bangladesh Institute of Development Studies (BIDS) on 4 April 2017 at BIDS conference room.
H E Ms Sidsel Bleken, Ambassador, Royal Norwegian Embassy was present as Special Commentator. Mr M Syeduzzaman, former Finance Minister and Member, CPD Board of Trustees spoke as Designated Discussant. Dr Fahmida Khatun, Executive Director of CPD and Dr Kazi Ali Toufique, Research Director of BIDS delivered the welcome remarks.
Just Faaland was a Norwegian political economist who died February 17 this year. He was the first country representative of the World Bank in Bangladesh. His work with J R Parkinson "Bangladesh: The Test Case for Development" is considered a classic work on the development path of Bangladesh. He was one of the individuals responsible for the formulation of the Malaysian New Economic Policy. He was also the director general of the International Food Policy Research Institute and chairman of the UN Committee for Development Planning.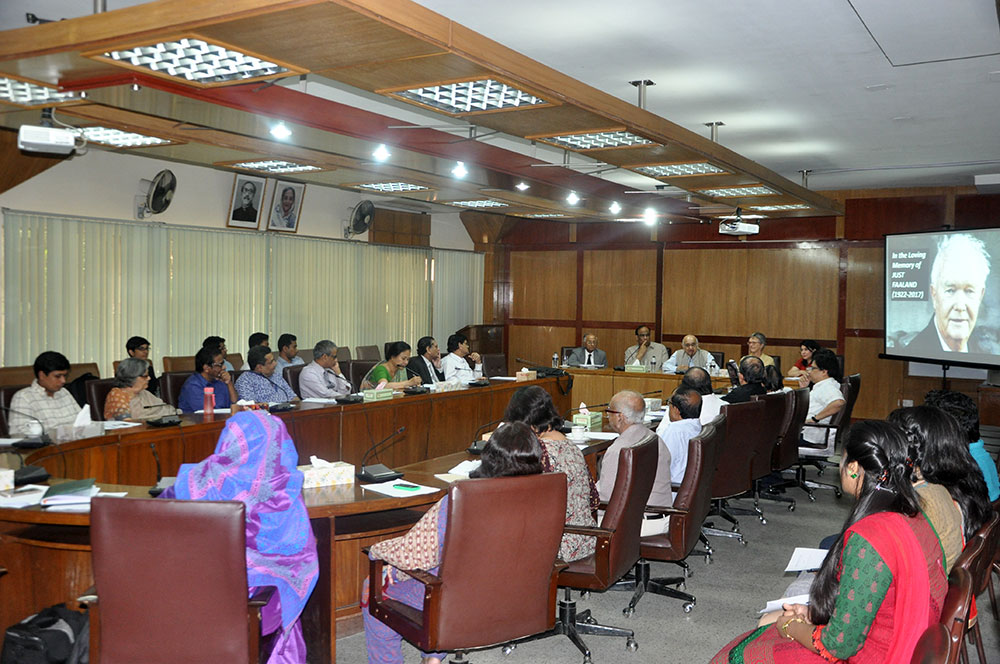 Dr Quazi Shahabuddin, former Director General of BIGD, Dr Shamsul Alam, Member, Planning Commission, Professor Mustafizur Rahman, Distinguished Fellow, CPD, Ms Simeen Mahmud, Head (a.i), Gender Studies Research Cluster, BIGD, Professor Abdul Bayes, former Vice Chancellor of Jahangirnagar University and Director Research and Evaluation Division, BRAC, Mr Nurul Haq, former Member, Planning Commission, Dr M Asaduzzaman, Professional Fellow, BIDS, Dr Biru Paksha Paul, Visiting Fellow, BIDS and Ms Anisatul Fatema Yousuf, Director, Dialogue and Communication Division, CPD were present at the event among others.