Published in New Age on Sunday, 22 December 2013.
Bangladesh RMG exporters pay highest for container shipment
Shakhawat Hossain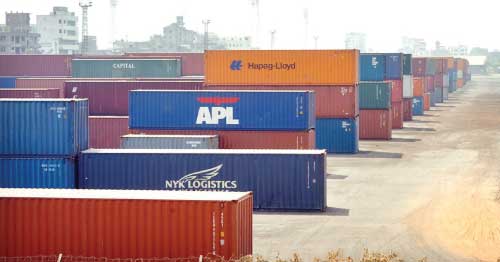 The country's apparel exporters pay second highest cost after India and almost double compared to other rival countries while sending a container to export destinations because of transport and bureaucratic hurdles.
The cost to export at $ 1,025 per container in Bangladesh is compared to $ 600 per container in many other RMG-exporting countries including China, the Philippines, Thailand and Vietnam.
Only Indian apparel exporters pay higher than the Bangladeshi exporters, over $ 1,100 for sending a 20-feet container.
The International Monetary Fund made the discloser in its latest review on Bangladesh while approving around $ 140 million loan of  Extended Credit Facility to the country.
The IMF, quoting a study by the World Bank, said container costs of the Bangladeshi apparel exporters include administrative fees for customs clearance and inspections, customs broker fees, port-related charges, and inland transport costs.
The cost does not include customs tariffs and duties, costs related to sea transport, or potential bribes, it said.
Experts said the high cost has forced the local apparel exporters to compromise with their profit margin and payment to the workers, one of the lowest in the world.
Centre for Policy Dialogue executive director Mustafizur Rahman said the businessmen should enhance pressure on the government for pulling down the high cost.
He said the competitive edge of the local RMG exporters because of low wages paid to the workers could have been sharpened further had not they faced constraints in exports and imports on Chittagong-Dhaka corridor.
The corridor, connecting the industrial districts around Dhaka with Chittagong, the country's main port, is currently unsuitable for efficient operation of trucks loaded with large containers.
Most goods are, therefore, transported between the RMG factories and Chittagong as loose cargo in 5-10 tonne trucks. The stripping and loading of containers create congestion in the port while 14 private off-dock container yards are operated by local companies.
Former caretaker adviser Mirza Azizul Islam said the RMG exporters were always prioritising demands like tax waiver, cash incentive and easy bank loans than the high transportation costs.
On December 12, 2013, leaders of the Bangladesh Garment Manufacturers and Exporters Association, Bangladesh Knitwear Manufacturers and Exporters Association and Bangladesh Textile Mills Association at a meeting with finance minister AMA Muhith demanded additional Tk 3 against exchange rate of a US dollar as an incentive.
They also demanded for a special loan package including low-interest credit for paying workers' wages and blocking of term loans without any interest for next two years, relaxing loan classification rule for two years, and waiving of additional charges at Chittagong port.
They made the demands against the backdrop of ongoing political unrest that has affected the country's number one export sector that sent products worth around $ 22 billion last fiscal year. They said production in the RMG factories reduced by 10 per cent while growth of the sector stood at only 2 per cent in last October.
The exporters said the RMG exports were facing a lot of challenges including political instability, labour unrest over implementation of the new wages with 76 per cent hike and improvement of factory compliances.
The local RMG exporters also faced growing pressure from home and abroad following two accidents at factories in the space of six months that killed 1,245 workers.
On November 24, 2012, a devastating fire broke out on the ground floor of the multi-storey Tazreen Fashions leaving 112 killed.
On the morning of April 24, 2013, the eight-storey Rana Plaza, which housed five clothing factories, a shopping mall and a bank, collapsed, leaving at least 1,133 people dead and about 2,000 injured.