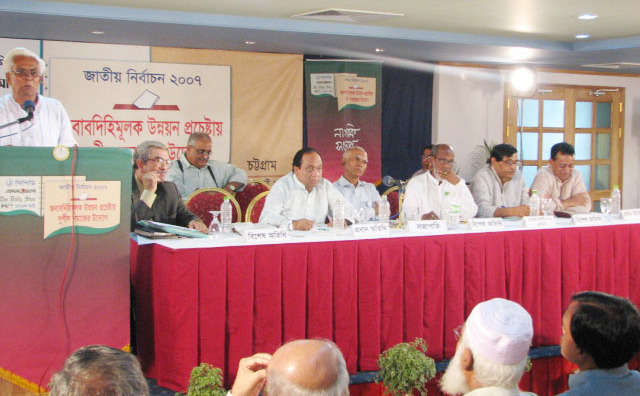 Speakers at the regional dialogue in Chittagong (July 08, 2006) observed that an independent, impartial and efficient Election Commission (EC) has to be established first for holding a free and fair election.
They said everybody has to be more conscious while casting vote and compel the political parties to nominate only honest and eligible candidates.
A dialogue between the ruling and opposition parties is also needed to bring in the reforms in the EC, and sincerity and political tolerance is a must for this, they said.
The dialogue jointly organised by the Centre for Policy Dialogue (CPD), the daily Prothom Alo, Channel i, and The Daily Star also witnessed hot debate on the role of Rapid Action Battalion (Rab) in curbing crime.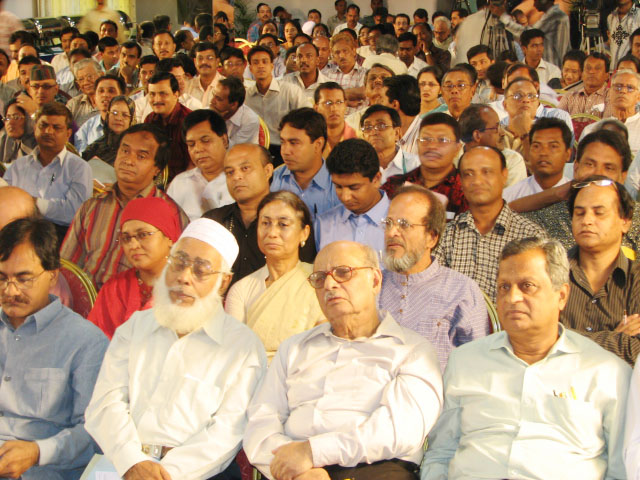 Some speakers highly appreciated the crime-busting organisation's role while others strongly criticised it for killing people without trial and giving the opportunity of self-defence.
The dialogue was the seventh in a series of discussions styled "National Election 2007: Civil Society Initiative for Accountable Development".
CPD Executive Director Debapriya Bhattacharya moderated the dialogue held at Hotel Peninsula in the Port City while eminent educationist Prof Sikander Khan presided it over. Minister for Fisheries and Livestock Abdullah Al Noman and former minister MA Mannan addressed the dialogue as special guests.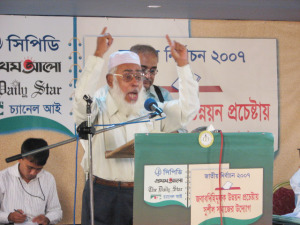 The speakers at the dialogue demanded an end to torture on the minority community before and after election, immediate resignation of the chief election commissioner (CEC), massive reform and strengthening of the EC, reforms in the political system, registration of political parties, ban on candidature for more than twice, and provision of casting no-confidence vote.
They also demanded publication of the political parties' annual audit reports for transparency.
Prof Abdullah Abu Sayeed and Prof Jamal Nazrul Islam spoke on behalf of the Nagorik Committee formed for preparing a vision paper for Bangladesh in 2021.
The debate on the Rab started when Alamgir Mohammad Sirajuddin, former vice chancellor of Chittagong University, urged the civil society members to raise voice against its activities for "killing people in the name of crossfire".
Khurshid Jamil Chowdhury, general secretary of Bangladesh Medical Association (BMA), Chittagong, strongly opposed him, saying, "The civil society should appreciate the role of Rab because it has brought back peace in the country."
SM Nurul Haque, acting president of Chittagong Chamber of Commerce and Industry, and Emdadul Haque Chowdhury, leader of Peshajibi Songram Parishad of Chittagong, supported the view.
Civil society member Mujibur Rahman said, "We are living in peace because of Rab but we should think whether the peace should come through Rab or a democratic process."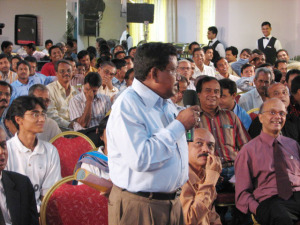 Ward Commissioner Rehana Kabir Ranu said there should not be two laws in one country: "On one hand, you are speaking for rule of law, and on the other, you are allowing extrajudicial killings."
Former minister Amir Khosru Mahmud Chowdhury observed that there is no need of Rab if the country is ruled peacefully. "But the Rab played a positive role in the perspective of the existing law and order in the country," he said.
Cashing in on common people's belief and support, major political parties are often seen nominating candidates of their choice whereas another candidate who is uncompromising about honesty and people's right often fails to earn party nomination, the dialogue observed.
The speakers said both the ruling and opposition parties of the country have now appeared to agree in principle regarding reforms in the EC, making some changes in its members, particularly replacing the "controversial" CEC.
They underscored the need for developing the culture of practising democracy inside all political parties.
Minister Abdullah Al Noman called for strengthening the civil societies to voice against all the odds and help the political parties become transparent and accountable.
He urged the civil society members to strongly put forward the opinions and demands of the people to help the country's politics get rid of the black money holders and criminalisation.
He observed that a cross-section of people should be invited to discuss and participate in the process of policymaking.
He said corruption and corrupt persons in different institutions should be identified and checked at the same time.
AL leader and former minister MA Mannan said in many cases there were misgivings between the political parties and leaders. He invited constructive criticism to bring back the faith in each other.
Amir Khosru Mahmud Chowdhury MP in his speech observed that no changes could come from the inside of a party and called for developing critical masses to help the political parties in this respect.
The parliamentary standing committees should be made stronger and more functional. The meeting of the parliamentary standing committee should be telecasted live to make people become aware of whatever is going on there.
He also emphasised on the participation of different civil society bodies and groups in the process of the standing committee's making decisions.
Debapriya Bhattacharya in his speech emphasised on introducing a fifteen-year plan for targeting development until 2021 when the country would be celebrating its 50 years of independence.
He said the country developed in many fields in the last fifteen years after the restoration of democracy. But, the benefit of the development could not be distributed equally and the people of the remote areas were deprived of the benefits.
Debapriya underlined the need for commitment of political parties to bring transparency and accountability in them.
A scope should be created for the people to make writ petitions against any political party if it lacked transparency, he observed.
There were laws to hold loan and bill defaulters and black money holders back from contesting parliamentary elections. But, the EC has failed in implementing the rules.
Editor of Dainik Prothom Alo Matiur Rahman in his speech referred to the present state of democracy and development of the country and said the political parties were responsible for inviting undesired 'advocacy' and 'interventions' of foreign diplomats and donor agencies.
Criticising the political parties he said they hardly ever implement the electoral commitments.
Pankaj Bhattacharya in his speech observed that the holding of free and fair elections by the current EC was impossible. Suggesting reforms in the EC, he said it would be very tough for the next caretaker government to tackle the situation which may develop if reforms in the EC were not implemented.
He said the black money holders are now dominant in the elections. Unless the political parties are made accountable, there would be no real public representation in the governance.
Renowned scientist Prof Jamal Nazrul Islam said the uncalled for intervention by the foreign diplomats and donors in the national economy is not good for the country.
The political parties and leaders must hold talks between them to overcome national crises, he said.
Former vice-chancellor of Chittagong University Alamgir Md Sirajuddin said in the absence of democracy practice neither political organisation nor leadership could flourish in the country.
He said the political parties are being turned into family organisations. It is encouraging autocracy and politicisation of the government.
The politics and political parties in Bangladesh are now turning into family assets, due to this we often see an autocratic rule running a government where a single person used to decide everything within the party, Sirajuddin added.
"Both the major parties failed miserably to follow the basic ideologies of democracy honestly and they also lack transparency and democratic practice in recruiting new members," he alleged.
Sirajuddin further alleged the civil society is also divided and their movement is aristocrat-based. He urged the leaders of civil society to go to the villages and make rural people become aware of their voting right.
General Secretary Khurshid Jamil Chowdhury of Bangladesh Medical Association (BMA) Chittagong unit in his speech observed that the ruling party would be compelled to practice democracy within itself if all other parties practice the democracy internally.
Jamil criticised some of the newspapers for exploiting its rights in the name of press freedom and alleged that a few newspapers run target-base reports.
"Certain policies are needed for the press to get rid of unjust reports," he suggested.
The BMA leader lauded the role of Rab and urged the civil society to appreciate it.
Professor Abdullah Abu Sayeed said the political parties remain busy mostly in pleasing the party high-ups. The public leaders loose their voices and freedom once they are sent to the parliament.
The legislators are compelled to speak in favour of his party decision even though he might disagree with it.
He underlined the need for creating an atmosphere suitable for all the legislators to express his own thoughts and beliefs in improving the nation.
Talking about accountability in political parties, he said if we could attain this, dictatorship inside the parties would be removed.
Women rights activist Mustari Shafi said, "We must establish gender equality and regain secularism to have credible general elections.
Acting President of Chittagong Chamber of Commerce and Industry SM Nurul Hoque asked for a policy to bar a candidate from contesting parliamentary elections more than twice.
"We want to see honest and competent persons in parliament who would speak in favour of economy, society and people," he said.
As long as people are hungry, the message of such dialogue to be 'good' and 'honest' would come to no use, Chittagong District Bar Association President advocate Khairul Islam said.
A sound economy is badly needed to have a sound democracy, he said.
Dr Imran Hossain, professor of history at CU, said, "Many of our representatives in parliament have little or no knowledge about law, society, state machinery, local government and other aspects."
Urging the CPD to come up with a 'project for honest voters and candidates', Prof Zia Haider of CU Fine Arts Department said, "We will be able to get a fair and credible election if we can have honest voters and candidates."
Senior lawyer and leader of Bangladesh Hindu Bouddha Christian Oikya Parishad Rana Das Gupta said ill treatment to the minority community is the main cause of the Hindu minority's leaving the country.
"Now the percentage of religious minority in the country is only 10.7, whereas it was 20.6 in 1971. This shows that our claim to have achieved a democracy is not at all true and none of us ever investigated the reason why the minority people left their own country in such a large number," he said.
Emphasising the need for registration and annual audit of political parties and introduction of voter ID cards for free, fair and credible elections, President of Institution of Engineers, Bangladesh, Chittagong chapter engineer Ali Ashraf said, "Mysteriously the two major parties are not sincere about the voter ID cards."
He suggested live telecast of parliament proceedings and urged all to launch a hatred-campaign against the politicians who are engaged in mischief in the name of politics.
Among the other participants were Delwar Majumder, Nurul Alam Masud, Abdul Awal, Sanjib Barua, Dr AQM Sirajul Islam, Sonjoy Acharya, Montosh Barua, Sultan Mahmud, MA Latif, Brigid Diaz, Kofil Uddin, Jahangir Alam, advocate Emdadul Islam, Nurul Islam, Prof Mohammad Sirajul Haque, Monwara Begum Moni, Sumima Yasmin Sumi, Mahbub Ali, Joinul Abedin, Shamsul Alam Tagore, Nurul Alam Manik, Shamsul Hossain, Durjoy Dey, Akinchon Barua, Dr Gazi Saleh Uddin, Nazimul Haque, Shahriar Hasan, Shahnewaz, Zobaer Shikder, advocate Abu Hanif, Hannana Begum, M Salehuddin, Abul Kalam Azad, MA Naser, Rezaul Karim, Nurun Nahar Begum, Sadia Musa, advocate Ratan Kumar Roy, SM Jamal Uddin, Rashedul Amin, Omar Kaiser, Akhter Kabir Chowdhury, Noman Faruqi, Nazmul Huda, Shahed Anam, Sheikh Iftekhar Saimul, Golam Haider Mintoo, Shahidul Alam, Adnan Mannan, Pulak Debdas.