Published in The Daily Star on Monday, 14 September 2015.
MACRO MIRROR
New pay scale, New Hopes
Dr Fahmida Khatun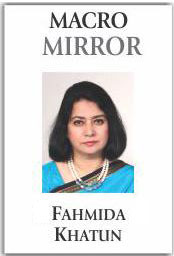 After another long wait, the eighth pay scale for government officials and employees has finally been approved. A commendable initiative of the government, the new pay scale is timely and necessary for the 21 lakh people serving the rest of the country. As in many countries, government jobs in Bangladesh have been less rewarding in terms of pay and perks. Apart from a sense of job security and perceived power, most of the employees have to struggle to make ends meet with the cost of living going up every year.
Since the announcement of the new pay scale, discussions hovered around its impact on a number of areas including inflation, budgetary allocation, efficiency of public services and most importantly, corruption. Economists have explained adequately why there will be no inflationary pressure on the economy due to injection of an additional Tk 15,094 crore this year and Tk 23,828 crore next year. This is only a nominal amount compared to the total consumption and total national income of the country. However, the price hike of goods and services by unscrupulous people, particularly in sectors such as transportation and housing, during the period of post-salary increase is common in the country. This takes away a part of the benefit of higher pay and raises the cost of living. Therefore, any unreasonable price increase should be monitored by the authorities and action should be taken against it, so that the full benefit of increased salary is enjoyed by the recipients.
Apart from providing financial respite to government officials, there are a number of underlying objectives of the government for upward revision of salaries. Though at one point in time, government jobs used to be the ultimate goal in the lives of many bright students from middle class families, public service gradually lost its charm as the private sector started to play a greater role in the economy since the late eighties and the early nineties, providing lucrative remuneration packages which government jobs could only pay a fraction of. This is not to say that money was the only deciding factor for them to not join government service. Rather, despite low pay, several brilliant students still chose to pursue careers in the government with the motivation to serve the country. With the current boost in government salaries, it is now expected that more talented people will be encouraged to join government office. India has revised the salaries of government service radically to attract the talented and competent pool of human resource. Singapore has set very high salaries for government officials to reduce brain drain from the government to the private sector.
The other aim of the government is to reduce corruption. The argument is that a large number of government servants take bribes because of their meagre salary. Although a noble objective and a common intuition, it is too simplistic and naive to consider salary increase as an anti-corruption measure.
In economic literature, broadly two arguments are discussed in favour of raising salary to eliminate corruption. The first one is the 'efficiency wage' logic that states that when salaries are high, officials will refrain from corruption since stakes are high too. That is, the fear of losing a high paid job due to corruption will demotivate them from engaging in any malpractice. This apprehension will also make them work harder which in turn will contribute to higher productivity. The second one is the 'fair wage' argument that suggests without 'fair' income, officials will engage in corruption.
None of these hypotheses, in reality, is true for public servants in developing countries. These arguments consider corruption as a coping mechanism of underpaid officials who cannot fulfil their families' demands. However, there are plenty of examples which tell us that regardless of the wealth status of individuals, corruption exists. It is not need, but greed that motivates even high officials to pursue unethical practices to earn money. While a low paid clerk in a government office makes a few thousand simply by providing a piece of paper, their bosses are paid in millions for signing a deal. Such practices go unabated since there is no accountability and systematic practice of reward and punishment. As a result, cracking down on corruption in government office becomes extremely difficult. Though the Finance Minister, on several occasions, expressed grave concerns about corruption, pointed to the issue of inefficiency of government officials and emphasised the need for public service reforms, there was no mention of such issues while the pay scale was announced.
It is a far-fetched expectation to ward off corruption just by raising the salary and keeping everything else unchanged without improving the rule of law. However, the new pay scale will hopefully attract honest talent who want to live with dignity. With this new set of entries, the quality of service delivery in government offices is expected to improve which will in turn contribute to higher productivity and growth. But the caveat remains. Such positive outcomes will depend on whether the public administration is free from political influence or not. After all, public servants are there to implement political decisions, not to get politicised.
The writer is Research Director at the Centre for Policy Dialogue, currently a Visiting Scholar at the Centre for Study of Science, Technology & Policy, India.